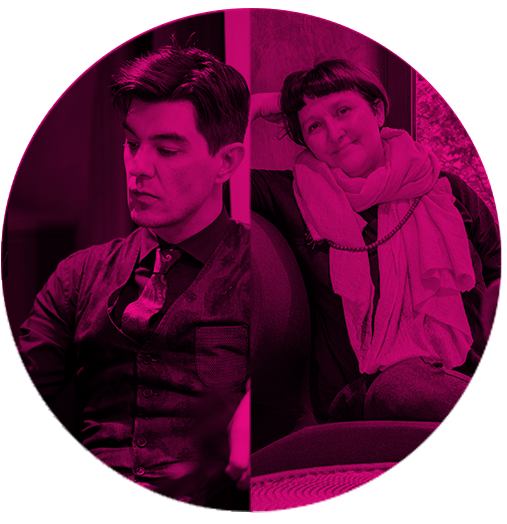 Patrizia Moroso & Davide Michelizza
Moroso was established in 1952, the brainchild of Agostino Moroso. From seventy years the company has been producing sofas, armchairs and furnishing accessories, by focusing on an extraordinary creativity in the designing stage and on an artisanal approach to product manufacturing. In the Eighties, with Roberto and Patrizia Moroso, the second generation of the family, starts an in depth programme of research in the field of distinctive design. Today Moroso is positioned among the haute couture of international design, as a leading company in upholstered-furniture manufacturing.
About Patrizia Moroso
Patrizia Moroso, Art Director of Moroso S.p.a., a family company specializing in the production of sofas, armchairs, and furniture accessories, became operationally involved in management in the mid-1980s. In just a few years, she transformed the company into a leading brand in international design.
Possessing a strong and innovative creative spirit, Patrizia has an insatiable curiosity for all forms of art, which keeps her ahead of her time. Since 1988, she began working with Ron Arad, who created his first upholstery collection for her. The collaboration with Patricia Urquiola, a star in international architecture and design today, started in 1999. In 2004, she began working with Tord Boontje, now the educational director at the Royal College in London. In 2007, Tokujin Yoshioka joined the collaboration and was later named Designer of the Year at Miami Basel.
Starting in 2003, she began realizing her idea of collaborating with contemporary art. The site-specific installation by the artist Michael Lin (then relatively unknown) marked the beginning of this new venture. This was followed in 2006 by a project with Tobias Reberger, which was later honored at the Venice Art Biennale in 2009 with the Golden Lion. In 2010, she embarked on her most recent collaboration with Francesco Simeti and Andrea Sala.
As an adept talent scout, she enjoys working with diversity and in a group. Her very feminine disposition for contact allowed designers to work on the essence of objects, giving them the freedom to rediscover applied arts (weaving, embroidery, decorations) and experiment with all possible materials. By harmonizing technology and craftsmanship, Patrizia Moroso has built an iconic product collection over the last twenty years, maintaining a unified imprint while preserving different latitudes and local flavors.
With an international horizon, the company's products have found their way into the most beautiful places around the world, including the MoMA in New York, the Palais de Tokyo and the Grand Palais in Paris, and the Venice Biennale. Public and private spaces come to life through products that tell their story with invention and whimsy, now symbols and history of design (the Nanook chair by Philippe Bestenheider won the "Premio dei Premi for Innovation" in 2010, awarded by the Italian Ministry of Innovation on the recommendation of ADI and presented to Patrizia Moroso by the President of the Italian Republic, Giorgio Napolitano).
But it doesn't stop there. A lover of art, the Lady of Design surprised everyone by conceiving, in 2010, together with curator Andrea Bruciati, a Moroso prize for contemporary art. The prize culminates in the final selection of three winners who will be hosted in residencies in London, New York, and Milan to install their works in Moroso showrooms in these cities during their respective contemporary art fairs. It's another step in a personal and professional journey where life merges with work in a unique, diverse, and unclassifiable creative entity.