Transsolar je mednarodno podjetje, ki se ukvarja s pro- jektiranjem tehnoloških sistemov stavb – t. i. klima inže- niringom. V podjetju stremijo k načrtovanju izjemnega bivalnega ugodja – tako v notranjih kot v zunanjih pro- storih – s pozitivnim vplivom na okolje. Trajnostnosti v podjetju ne ločujejo od oblikovanja, temveč je zanje ne- pogrešljiva komponenta, ki izboljšuje izkušnjo grajenega okolja.
So gonilna sila pri razvoju idej in izpopolnjevalci dizajna. Inženirji podjetja niso le strokovnjaki na področju osnov- nih fizikalnih principov, temveč kreativni sooblikovalci v načrtovalskem procesu, ki omogočajo razvoj celovitih konceptov bivalnega ugodja in rabe energije. Od prvih zasnov projekta naprej tesno sodelujejo z naročnikom, arhitektom, drugimi projektanti in z najbolj ključnimi deležniki med vsemi – uporabniki. Na osnovi analiz vpliva sonca, vetra, toplote, svetlobe in drugih energij- skih tokov v stavbi in njeni okolici skozi leto oblikujejo koncepte delovanja stavbe, ki upoštevajo prepletajoče se dejavnike lokalnega podnebja, potrebe uporabnika, arhitekturno zasnovo in stavbno tehnologijo.
Jochen Lam je na Univerzi v Stuttgartu končal študij strojnega inženirstva in se nato leta 2013 pridružil nem- ški pisarni podjetja Transsolar. Eno leto je delal tudi v nji- hovi pisarni v New Yorku. Je del razvojne ekipe TRNSYS ter strokovnjak za toplotno modeliranje stavb in siste- mov. Poleg svetovanja projektantom izvaja delavnice za študente in predava po evropskih univerzah.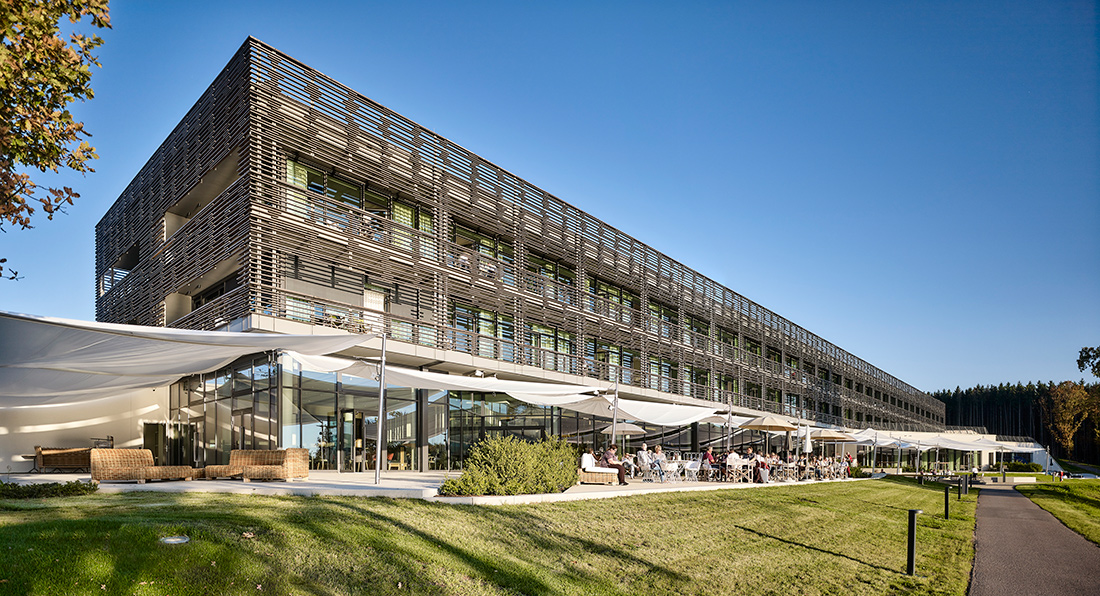 SEEZEITLODGE, HOTEL & SPA AT LAKE BOSTAL, NOHFELDEN, GERMANY
In June 2017, a new 4-star hotel opened on the shores of Bostalsee, a lake and eponymous recreational area in Saar land. The hotel houses 100 rooms and suites, a 2.000 m2 spa, a restaurant, a bar, and conference facilities. To run a luxury hotel, a beautiful view to the lake is not enough. The customer experience must also be exceptional. Transsolar's role was critical in creating high quality comfort and cost-effective operation. One target of the project is to demonstrate that such comfort can be achieved without increasing the energy demand. Through an iterative design process and the use of thermal, day light and CFD simulations, Transsolar worked with the architect and client to develop the energy and comfort concept. A challenge of the project was to maintain an unobstructed view of the lake while limiting the solar heat gains in summer. The hotel room balconies and the exterior suspended wooden lamella were optimized for sun protection, day light and views. Motorized awnings are installed on the ground floor to provide shade for the patio, lobby, restaurant and event rooms while allowing for unobstructed views and free passage. In the hotel rooms, thermally activated concrete ceilings provide the basic heating and cooling. During winter, the room temperature can be controlled via convectors. Guests can also decide how fresh air enters the room: they may either open the balcony door and windows or they can switch on the bathroom fan which draws outdoor air through façade trickle vents. A gas-powered combined heat-and-powerplant provides heat and electricity for the base load; the waste heat from the chiller is used to pre heat the domestic hot water and the pool water in the spa area.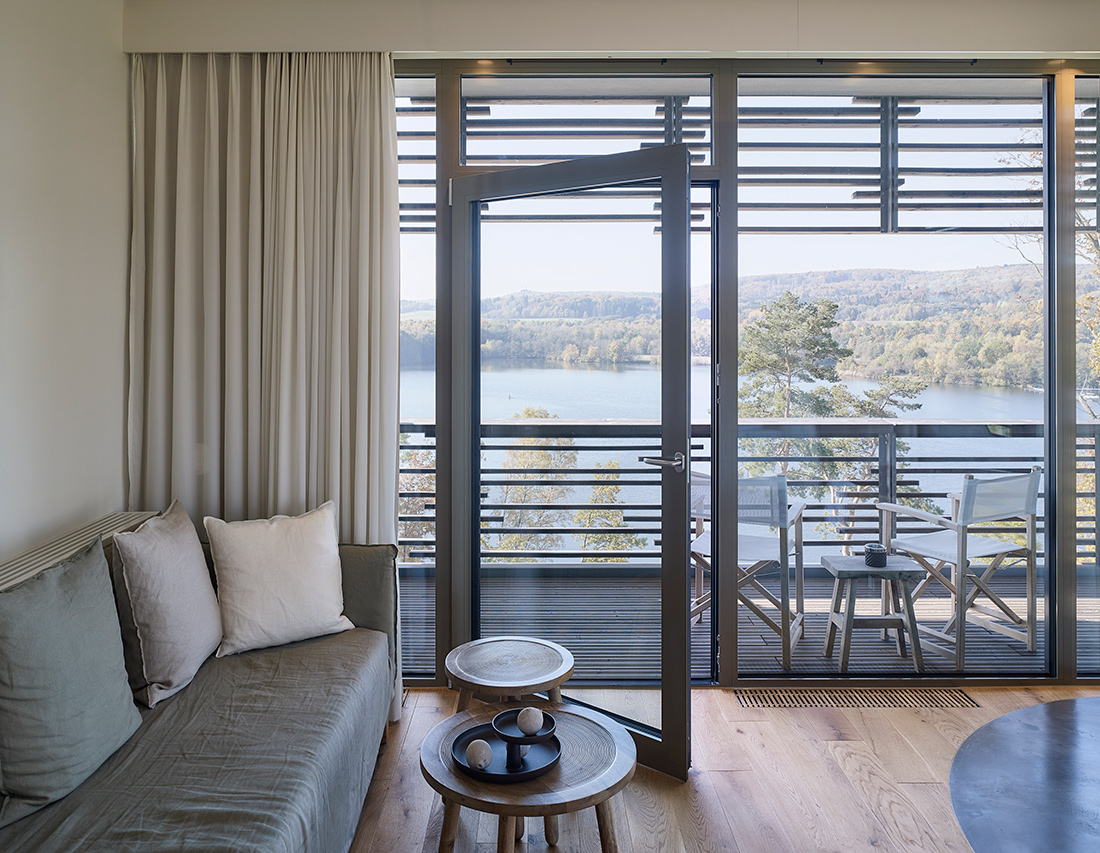 DATA:
Client: HotelKultur
GFA: 129,000 ft / 12,000 m
Architect: GRAFT Gesellschaft von Architekten
Mechanical: ZWP Ingenieur-AG
Structural: Knippers Helbig
Interior Design: Nicolay Architektur & Design
Photos: Michael Moser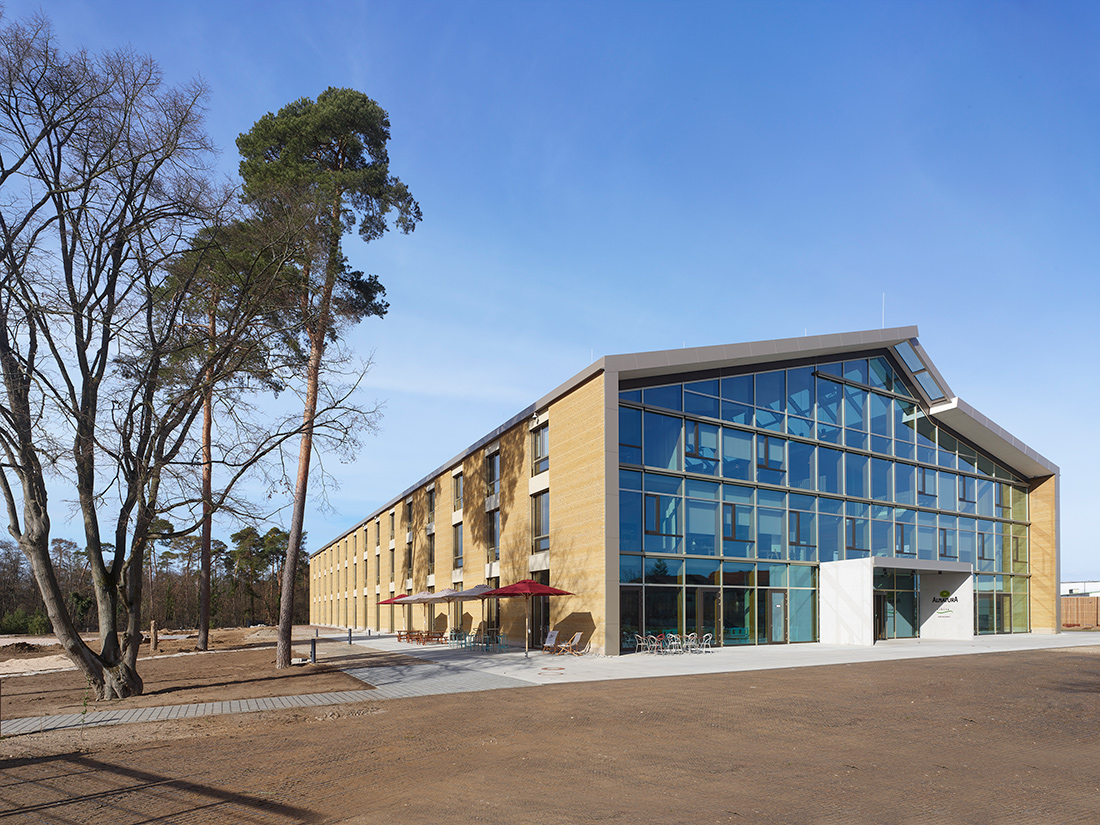 ALNATURA CAMPUS, DARMSTADT, GERMANY
The new Alnatura Headquarters in Darmstadt opened 2019. The "Bürowelt" ("officeworld") consists of offices, a canteen and a conference area. Besides providing a good indoor climate, special emphasis is placed on "simplicity": more quality by reduction. This was achieved primarily through the design. The planning team focused on reducing the expenses for technical equipment by introducing passive approaches while ensuring a high user comfort. They evaluated the embodied energy of the new building and adopted resource-friendly solutions for the components. As a result, the team developed a high-performance building with optimized indoor comfort while using natural materials such as the rammed earth façade or the wooden roof construction. The vertical façades are shaded externally. The east and west facades are glazed floor-to-ceiling and combined with bright surfaces, an atrium and north-facing skylights provide optimal day light supply. The artificial lighting is controlled by occupancy and ambient brightness. The building is ventilated naturally, preconditioning fresh air via earth ducts and then distributing it to the offices via displacement ventilation. In addition, the occupants can individually open windows for fresh outside air. Operable openings in the atrium roof drive natural cross-ventilation and exhaust used air. The ventilation system is equipped with CO2 sensors and can be supported mechanically if needed. To reduce heating and cooling demand solar gains are utilized and heat loss is reduced. In summer the thermal mass is cooled via nighttime air flushing and subsequently
acts as cooling source throughout the day. A radiant system, which is integrated in the rammed earth walls facing the room, can be activated as support if necessary. A geothermal system with bore holes provides heating and cooling.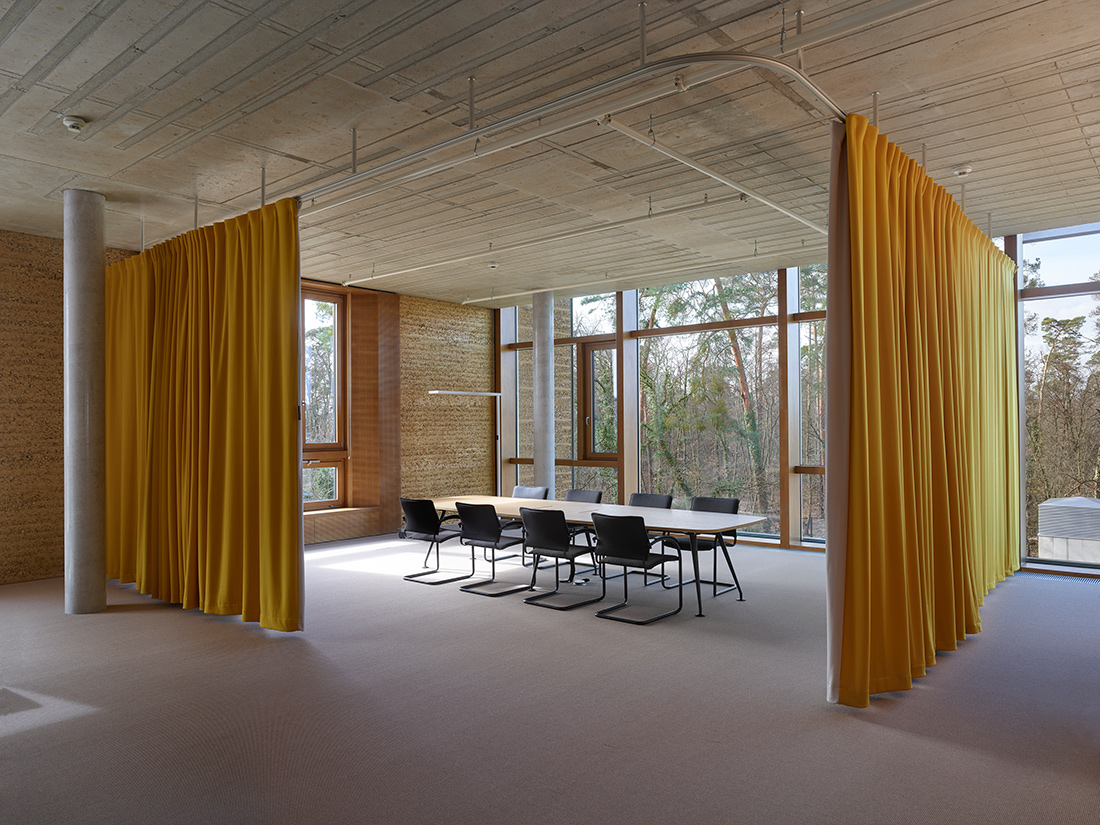 DATA:
Client: Alnatura Campus GmbH
Completion: 2019
GFA: 10,000 m²
Architects:  haas cook zemmrich STUDIO 2050
Structural: Knippers & Helbig
HVAC: Henne & Walter
Building physics: KNP
Landscape architect: Atelier Dreiseitl
Rammed Earth Lehm Ton Erde
Photos: Roland Halbe