5. maj
9.30-12.00
Cankarjev dom Ljubljana
Konferenca Inteligentne fasade
Preplet dejavnikov z osrediščenjem na uporabnika
Inteligentna fasada ne predstavlja več zgolj dodane vrednosti, pač pa nujo, brez katere zgradba ne more pravilno delovati. Razvoj gradbene tehnologije, ostrejše zahteve zakonodajnih teles, ki jih narekuje okoljevarstvena politika, ter višja pričakovanja uporabnikov prispevajo k nadaljnjemu razvoju stavbnega ovoja. Da bi lahko ustregli tem zahtevam in pričakovanjem, fasade postajajo prilagodljive, interaktivne in inteligentne. Ustrezna zasnova fasadne opne ima lahko številne pozitivne vplive na uporabnike stavbe in na njeno okolico, obenem pa ključno prispeva k učinkoviti rabi energije v stavbi. Inteligentna fasada tako izboljšuje pogoje naravne osvetlitve v notranjih prostorih, omogoča nemotene poglede navzven, vzpostavlja pretok svežega zraka ter, med drugim, zbira in izkorišča sončno energijo ali vodo. Navkljub vsemu pa fasada še vedno predstavlja tudi obraz stavbe v javnem prostoru. Z razvojem tehnologije fasadnega ovoja, si lahko stavbe danes nadenejo svobodnejši izraz ter vzpostavijo bolj odprto komunikacijo z zunanjim prostorom.
Kurator: dr. Jernej Markelj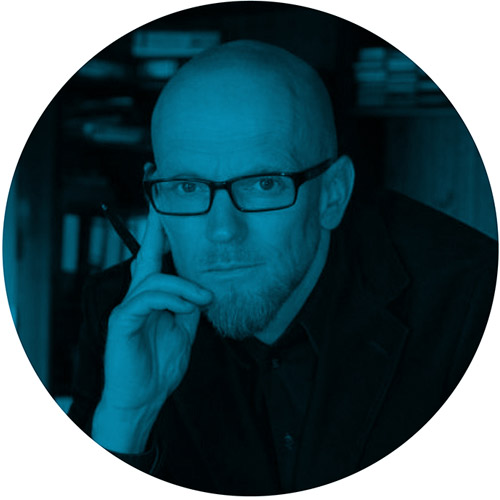 Prof. Brian Cody;
Energy Design Cody; Avstrija
Energy Design Cody je svetovalna pisarna, specializirana za neodvisno konceptualno in strateško svetovanje za optimiranje delovanja stavb in urbanih zasnov, da so resnično energijsko učinkovite in trajnostne. Pri stavbnih projektih po vsem svetu razvijajo inovativne energijske koncepte in kakovostno notranje bivalno ugodje.
Pri delu težijo k optimizaciji energijske učinkovitosti ob sočasnem stremljenju k čim višjim arhitekturnim in prostorskim odlikam. To je mogoče doseči s celovitim pristopom načrtovalske ekipe in z razvojem koncepta rabe energije, ki je sestavni del zasnove celotne stavbe. Prof. Brian Cody, ustanovitelj in vodja pisarne Energy
Design Cody ter pooblaščeni inženir s 30-letnimi izkušnjami z analiziranjem in snovanjem energijsko učinkovitih mest, stavb in sistemov, je tudi redni profesor in vodja Inštituta za stavbe in energijo na Tehniški univerzi v Gradcu ter gostujoči profesor na Univerzi za uporabne umetnosti na Dunaju (»Die Angewandte«). Pred letom 2003 je bil več let zaposlen pri mednarodnem inženirskem svetovalnem podjetju Arup, kjer je deloval kot pridruženi direktor in vodja projektov v nemški podružnici. Prof. Cody deluje v več svetovalnih odborih in žirijah. Številnim projektom in natečajnim predlogom, pri katerih je sodeloval, so bile podeljene arhitekturne nagrade. Je tudi avtor knjige Form Follows Energy (»Oblika sledi energiji; uporaba naravnih sil za izboljšanje delovanja«), ki je bila izdana leta 2017.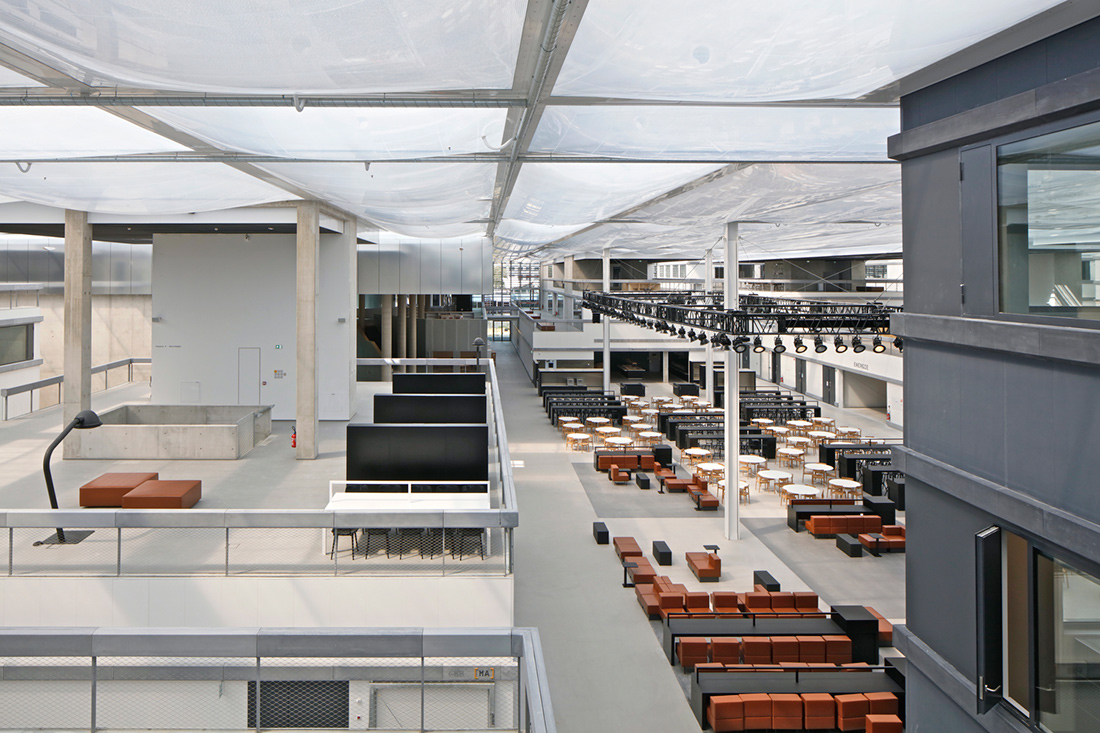 LAB CITY CENTRALESUPÉLEC – ENGINEERING SCHOOL, ECOLE CENTRALE PARIS
Their involvement on this project started during the competition phase. They worked with OMA architects in Rotterdam to help them develop a new university campus building typology which achieves high energy performance by utilizing synergetic interactions between the various uses while creating a new form of campus space under a "climate envelope". The building comprises teaching spaces, laboratories and offices, all enclosed within a climate envelope so that the in-between spaces form an indoor campus. Within the hall under the climate envelope, composed of a PTFE foil roof and glass façades, a macroclimate is created, largely by passive means, which is not as closely controlled as the internal environments within the laboratories and the offices. The roof design reacts to the requirements of the various spaces below by combining highly insulated opaque areas with transparent areas and optimizing their placement and distribution to reflect the distribution of the building program in the hall. The hall is a transitional space between the internal and external environments, supporting and enhancing the campus atmosphere and informal communication. The concepts developed work in the completed building to enhance both communication between people and synergetic energy flows between the many diversified uses under its roof, transferring surplus heat from the laboratories to spaces which require heat such as the offices.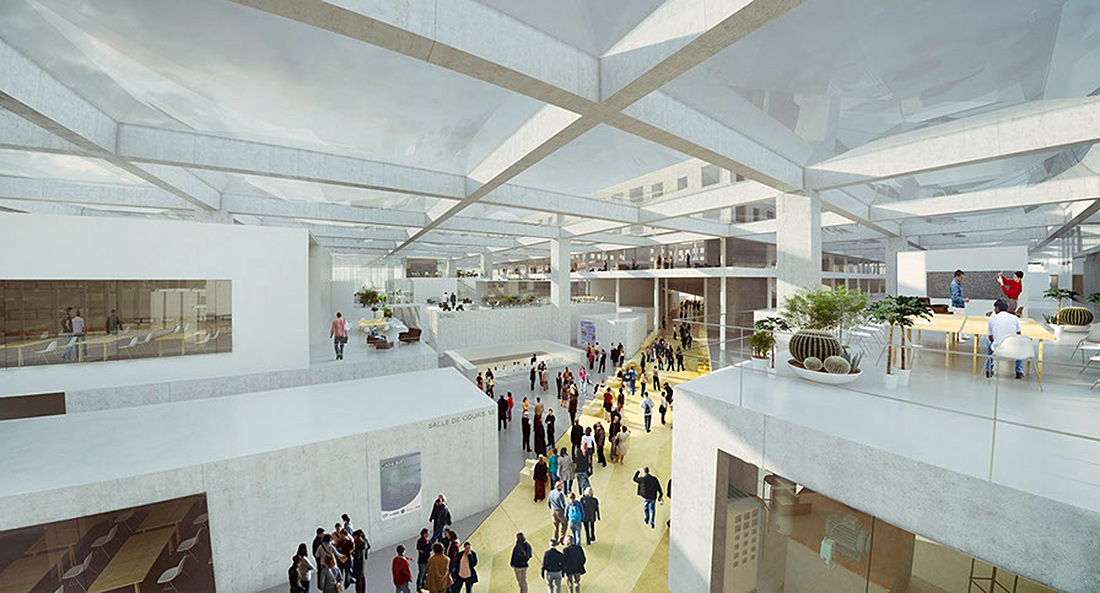 DATA:
Location: Paris, France
Architect: OMA Office for Metropolitan Architecture
Building owner: Ecole Centrale Paris
Total floor area: 50 000 m2
Start date: 2012
Completion date: 2017
Service: Energy design concepts
Status: Completed
Rendering: OMA
Photos: Philippe Ruault
Renderings: OMA Office for Metropolitan Architecture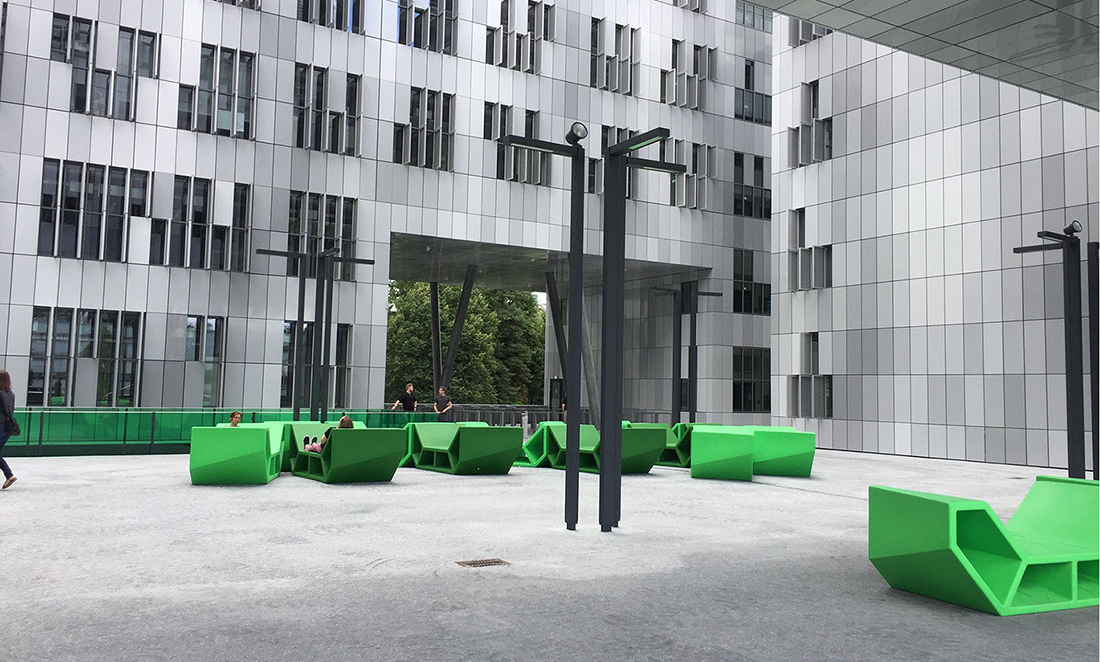 MED CAMPUS GRAZ
The exploitation of symbiotic relationships and synergies in the development of the energy systems is an important aspect of the concepts we developed for the new campus of the medical University of Graz, in collaboration with the architects Riegler Riewe. Deceptively simple strategies can save considerable amounts of energy and resources. In the laboratory areas, a system was developed which employs the supply of cooled air and the use of reheaters to meet the individual demands of the laboratory spaces instead of the conventional HVAC system type utilized in Central Europe with isothermal supply air and secondary cooling systems, ensuring a greater utilization of free cooling and thus saving thermal energy and increasing energy performance. The floor plan is so configured that the office spaces and write- up areas are positioned in the regions with the best daylight conditions. The daylight openings in the façades in the lab areas are provided at two levels, at mid-level to provide views at the write-up areas and at high level to provide daylight to the laboratories behind. The configuration and size of the openings in the façades depends on the specific location within the dense urban structure and the use of the spaces behind the façade. The offices are naturally ventilated and heated and cooled via suspended radiant ceiling panels. On account of wind considerations related to microclimate the buildings are orientated with the long axis running north-south. The external shading devices were therefore designed as automatically controlled vertically aligned perforated metal elements which allow daylight and views while blocking solar radiation.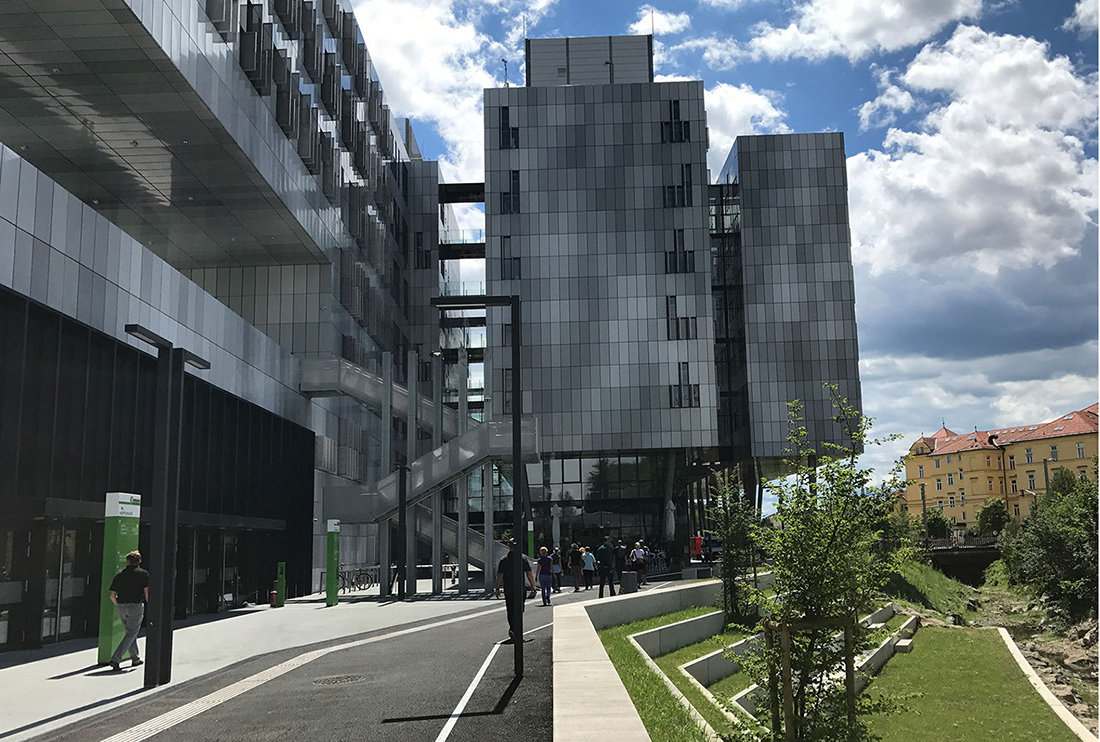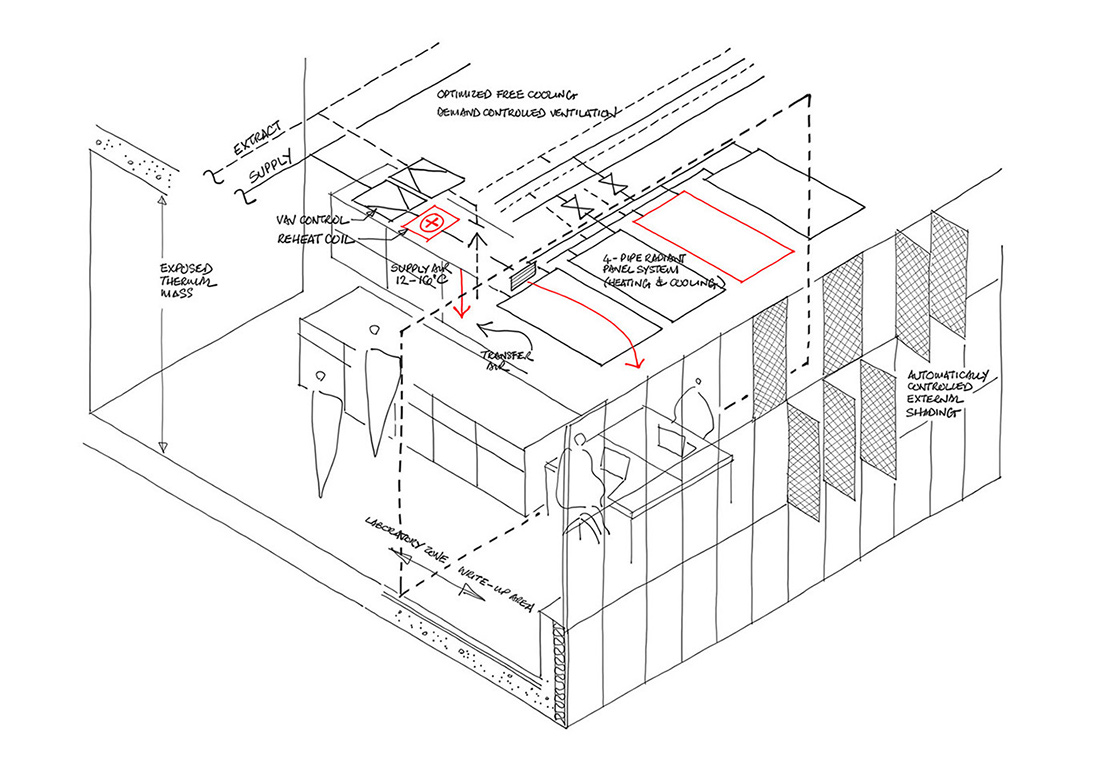 DATA:
Location: Graz, Austria
Architect: Riegler Riewe Architects
Building owner: BIG Bundesimmobiliengesellschaft m.b.H.
Total floor area: 90 000 m2
Start date: 2010
Completion date: 2017
Service: Energy design concepts
Status: Completed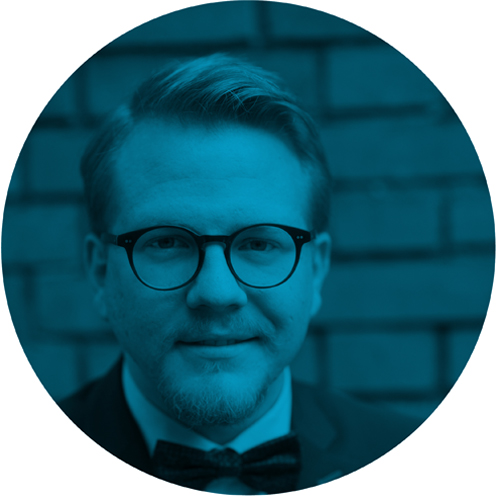 Dr. Sebastian Schmidt;
FIXIT GRUPPE; Nemčija
Sebastian Schmidt, inženir in strokovnjak za materiale. Od leta 2020 dela kot vodja projektov v oddelku za raziskave in razvoj podjetja FIXIT GRUPPE. Njegovo področje delovanja vključuje nadzor nad visoko učinkovitim toplotnim-izolacijskim ometom Fixit 222 Aerogel, razvoj novih izolacijskih ometov, testiranje in odobritev gradbenih materialov, pripravo okoljskih deklaracij proizvodov (EPD) in sodelovanje v komisiji na temo »recikliranja« gradbenih materialov.
FIXIT GRUPPE obstaja od septembra 2006 kot krovna organizacija, ki predstavlja pet blagovnih znamk gradbenih materialov, in sicer FIXIT, GREUTOL, HASIT, KREISEL in RÖFIX. Podjetje FIXIT GRUPPE je s 67 lokacijami v 18-ih evropskih državah in približno 2500 zaposlenimi eden vodilnih evropskih ponudnikov sistemov na področju gradbenih materialov.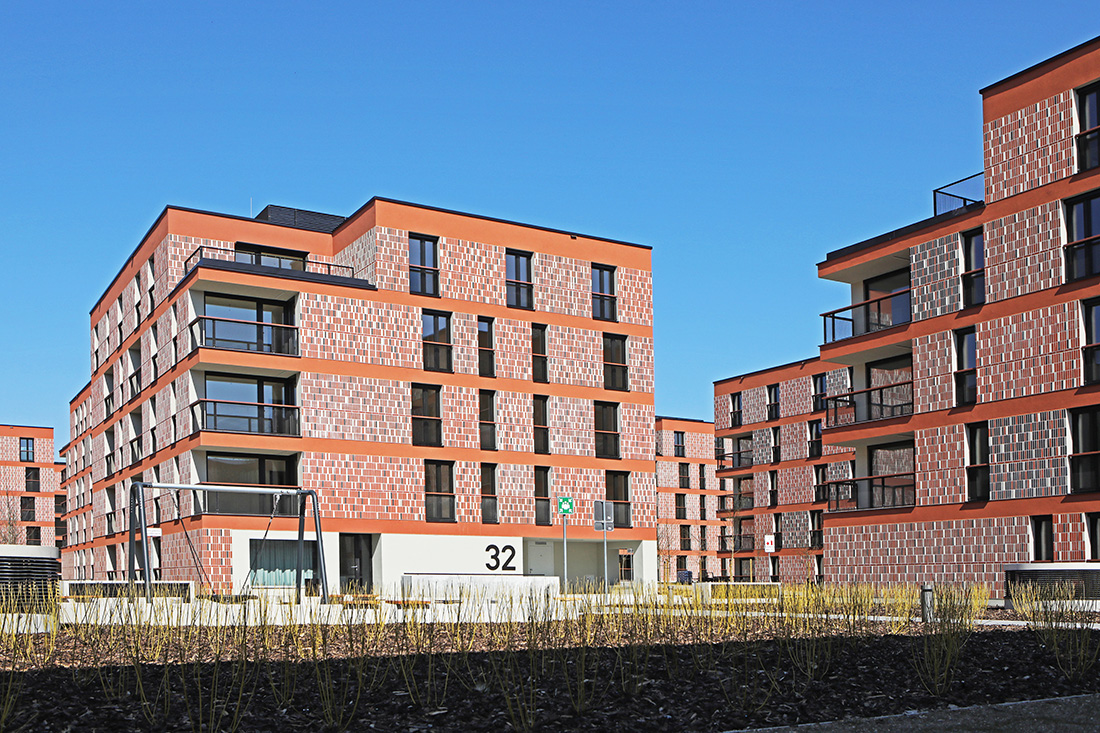 Konec leta 2021 se je na 4,8 hektarov velikem zemljišču Novo Brdo zaključila gradnja 18 poslopij, ki ponujajo 498 najemniških stanovanj, velikih od 30 do 80 kvadratnih metrov. Novo naselje se nahaja na Viču v Ljubljani, med Cesto na Vrhovce in Cesto na Brdo. Sestavljajo ga manjše zgradbe, tako imenovane vile-bloki, in večji podolgovati bloki. Bloki so postavljeni široko drug od drugega. Raztezajo se od severa proti jugu, med njimi potekajo peš poti in kolesarske steze. Gre za gradnje in stanovanja višjega standarda, ki nudijo bivalne prostore in sobivalno skupnost različnim generacijam. Kvaliteto življenja stanovalcev novega naselja bo zagotavljala varna, zelena okolica z igrišči in povezavami z drugimi bližnjimi zelenimi površinami. Vsa poslopja se lahko pohvalijo s kvalitetnimi dolgotrajnimi fasadami, ki jih je skrbno izbrala in oblikovala mreža izvajalcev in dobaviteljev posameznih gradbenih elementov, kot so fasadni elementi, izolacijske plošče, vrhnji materiali, zaščita pred vlago in fugirna masa. S pomočjo fasadnega sistema StoneEtics ®50 podjetja Röfix Slovenia poslopja dosežejo estetsko dovršenost, funkcionalost in trajnost.
PODATKI:
Ime: Naselje Novo Brdo
Arhitekt: Dekleva Gregorič arhitekti
Velikost: 18 poslopij
Fasada: 25,000 m2 Röfix StoneEtics® in 8,000 m2 Röfix Etics
Fotografije: Matjaž Žnidaršič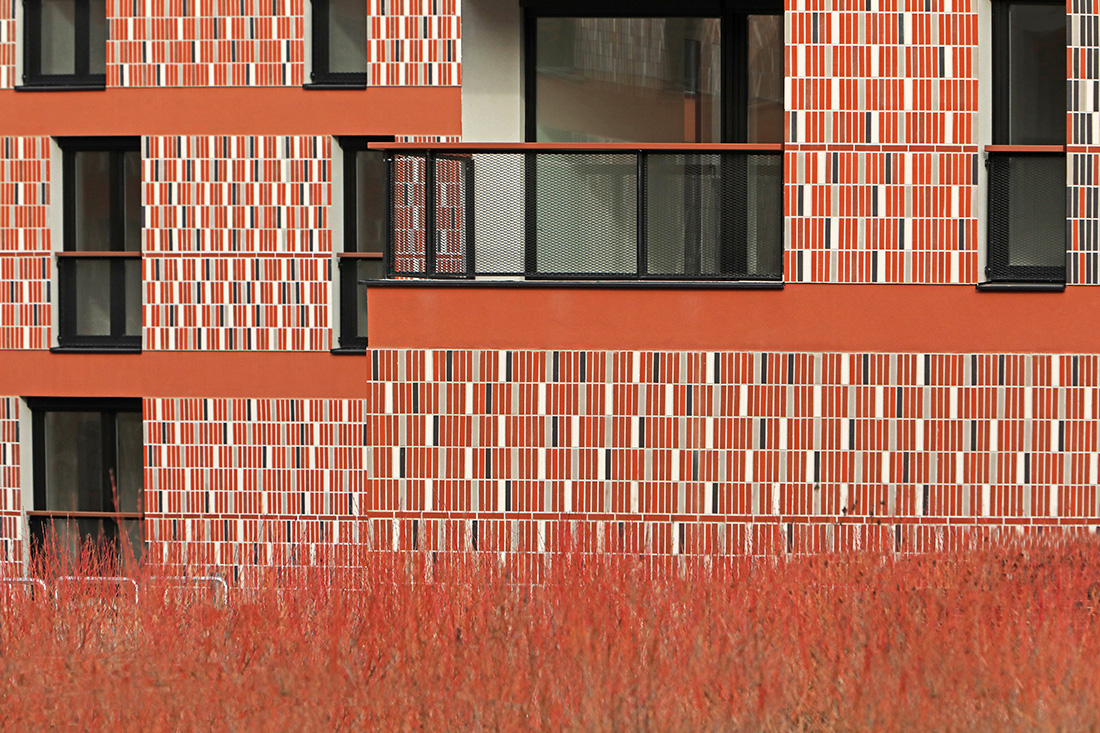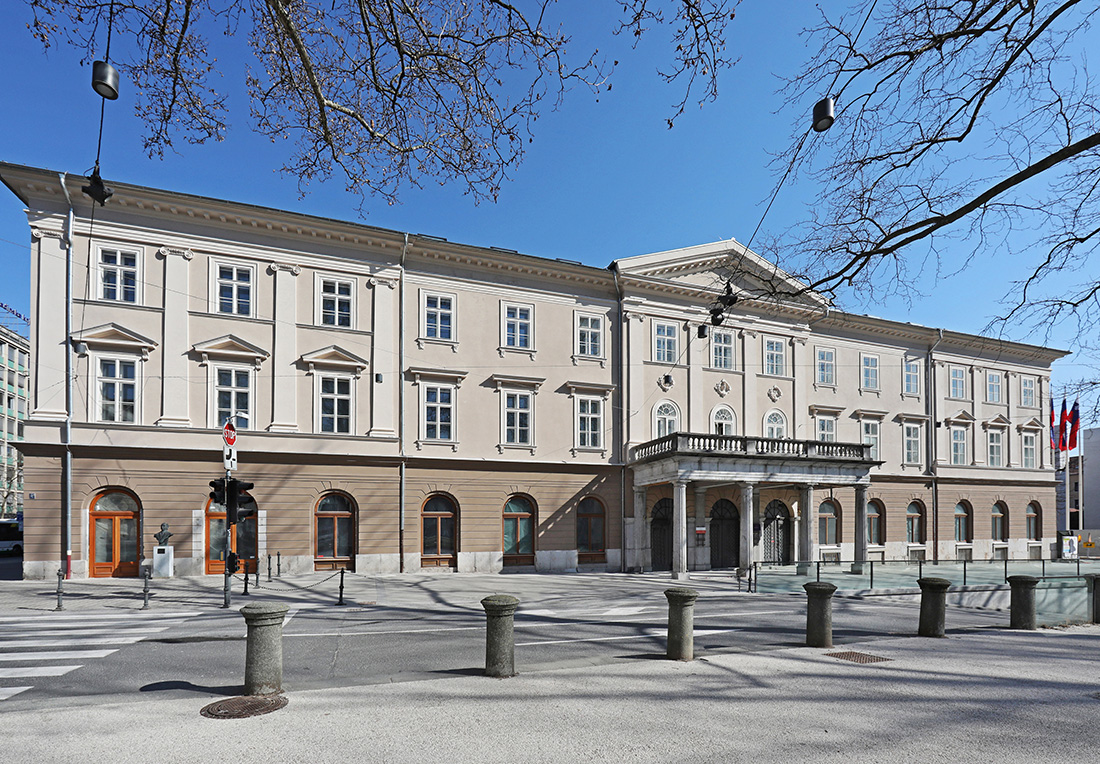 Znamenita palača Kazina, ki je bila prenovljena konec leta 2021, bo v prihodnosti zaščitena kot pomemben lokalni kulturni spomenik. Kazino je za takšno zaščito predlagala skupina konzervatorjev z ljubljanske enote Zavoda za varstvo kulturne dediščine Slovenije. "Palača" je ena redkih ohranjenih primerkov večnamenske javne palače iz prve polovice devetnajstega stoletja. Že takrat je bila Kazina več kot zgolj prostor za druženje – v začetku je bila pravi forum aristokracije, kasneje pa tudi meščanov. Društvo Kazina je stavbo zgradilo med leti 1835 in 1837, gradnjo so zaupali mestnemu mojstru Venceslavu Vadnavu. V prihodnosti bodo prostori Kazine v celoti na voljo Akademiji za glasbo. Renovacijo Kazine je nadzoroval Zavod za varstvo kulturne dediščine Slovenije. Med prenovo so bili uporabljeni materiali, ki jih je dobavilo podjetje Röfix Slovenia. V Röfix Slovenia imamo ohranjanje tovrstnih zgradb za svojo najvišjo prioriteto, saj jih tako čuvamo za prihodnje generacije kot dokumente nekega minulega časa. Pri delu nas ne zanima samo prenova, ampak predvsem ohranjanje zgodovinskih materialov. Röfix Slovenia strokovno usposobljenemu osebju nudi veliko izbiro zgodovinskih malt, cementov in premazov za prenovo zgodovinskih arhitekturnih površin, kot v primeru renovacije Kazine v Ljubljani.
PODATKI:
Ime: Kazina
Zavod za varstvo kulturne dediščine Slovenije, enota Ljubljana
Velikost: 6,000 m2 tloris in 2,500 m2 fasada
Sistem prenove: Röfix Slovenia
Fotografije: Matjaž Žnidaršič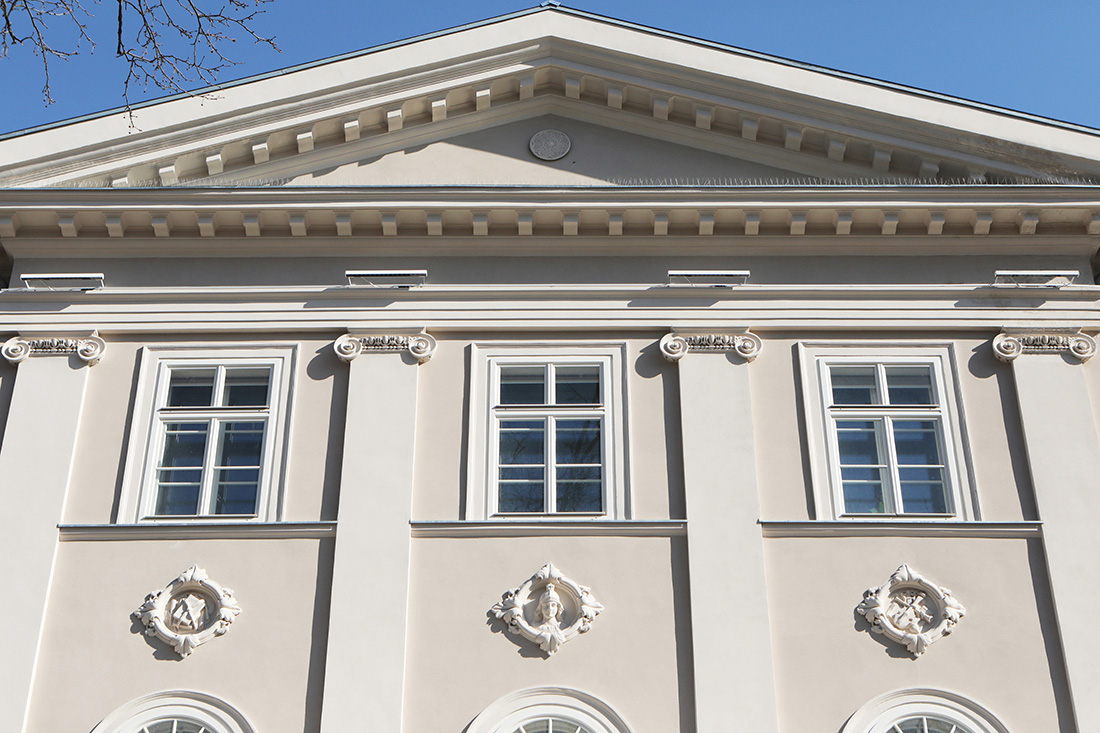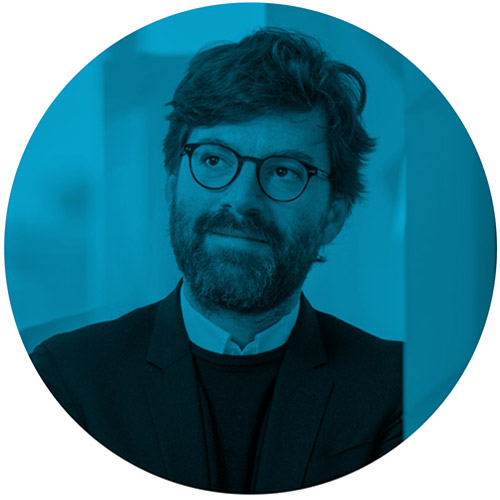 Dr. Philipp Lionel Molter
Studiomolter; Nemčija
Studiomolter je interdisciplinarna arhitekturno-oblikovalska delavnica. Navdihnjeni z radovednostjo raziskujejo kompleksnost in različnost na vseh ravneh arhitekture in oblikovanja s fokusom na znanstveno-oblikovalskem raziskovalnem pristopu.
Njihova metoda temelji na poglobljeni analizi kulturnega okolja in geografskih danosti. Njihov način dela odseva tako osebni kot tudi družbeni kontekst, z namenom poiskati primerno rešitev v odprtem in skupnem oblikovnem raziskovanju z arhitekti, inženirji, raziskovalci in drugimi strokovnjaki.
Phillipp Lionel Molter je kot arhitekt več let delal v mednarodno priznanem biroju Renzo Piano Building Workshop. Leta 2010 je osnoval lastno pisarno in v naslednjih letih izvedel več nagrajenih projektov. Pred imenovanjem za rednega profesorja za arhitekturo na IU mednarodni univerzi v Nemčiji, je bil so-vodja katedre za arhitekturno oblikovanje in stavbni ovoj na Tehniški univerzi v Münchnu. Pri raziskovalnem in pedagoškem delu se osredotoča na prilagodljive stavbne ovoje ter njihovo toplotno, vizualno in okoljsko učinkovito delovanje. Philipp Lionel Molter je tudi izumitelj in je nosilec patenta pri Evropskem patentnem uradu. Za svojo doktorsko nalogo je bil nagrajen z nagrado dr. Marschalla, ki jo za izjemne disertacije podeljujejo na oddelku za arhitekturo Tehniške univerze v Münchnu.
Je avtor številnih knjig, znanstvenih in recenziranih člankov. Je tudi recenzent za znanstvene revije in je predaval po številnih krajih v Evropi in Avstrailiji. Njegova dela so objavljena v več revijah, med drugim tudi v: reviji wallpaper, reviji Frame, reviji Detail in na televiziji.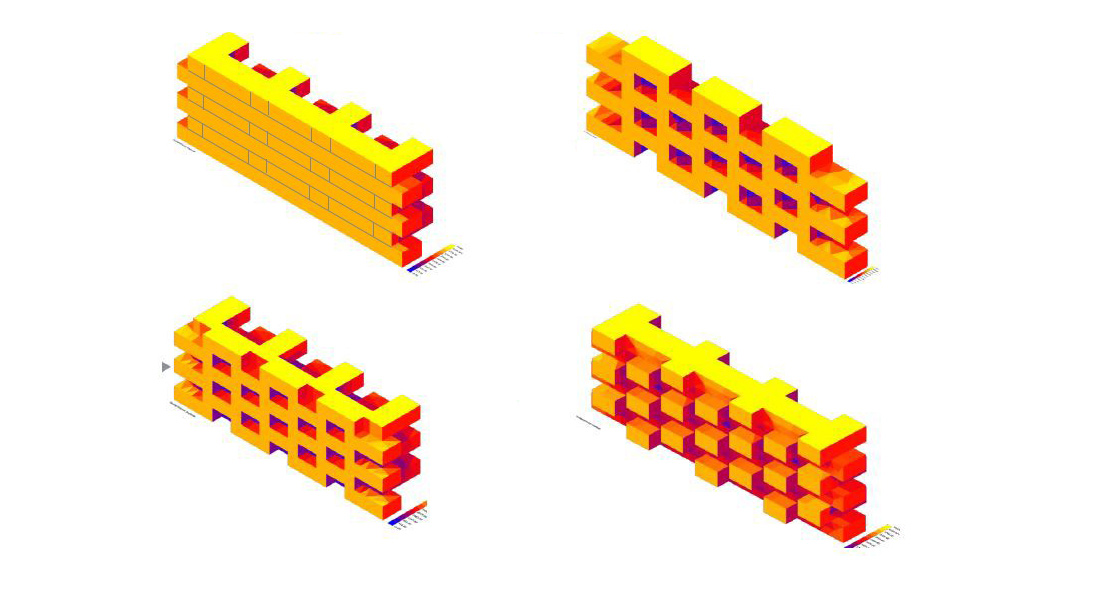 SELECTED RESEARCH PROJECTS: CLIMATE ACTIVE BRICKS
Brick has been proven to be one of the most widespread building materials worldwide and this is projected to continue. The adobe material, due to its high thermal capacity robustness and formal flexibility, can be assembled in different ways to control the thermal behaviour with self-shading or adding active interventions like extra moisture. Additionally, bricks as modular elements have the potential to be further studied in terms of geometric configurations to minimize or maximize their solar exposure for summer or winter scenarios as climate control elements. The potential of sprinkled bricks decreasing surface temperature of building envelopes can significantly contribute to an improved microclimate and improved urban heat island (UHI). This research investigates the potentials of different geometrical brick patterns and their behaviour on self-shading potential to reduce mean surface temperature of solar exposed brick walls. The study shaped in two layers including field measurements for geometric behaviour and evaporative cooling potential. The results are discussed and compared for 3 configurations of solid, extruded and perforated under varying boundary conditions over a day. Field measurements of solar exposed brick mockups are conducted in a range of experiments and their surface temperature monitored. The results show an average temperature difference of eight degrees Celsius between a straight solid wall and an optimized brick pattern featuring self-shading geometry. A second experiment showed eleven degrees of surface temperature difference combining self-shading brick geometry with irrigated surfaces.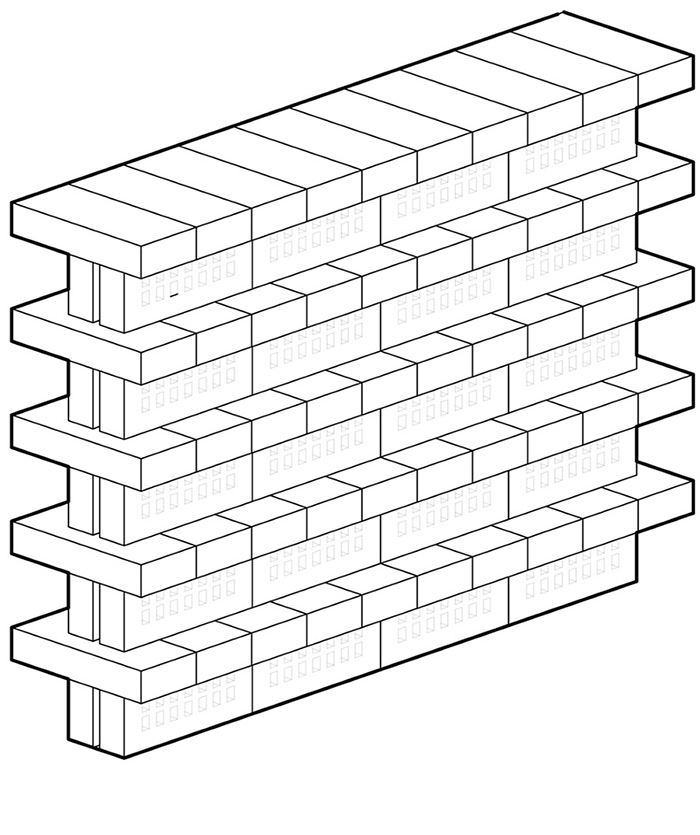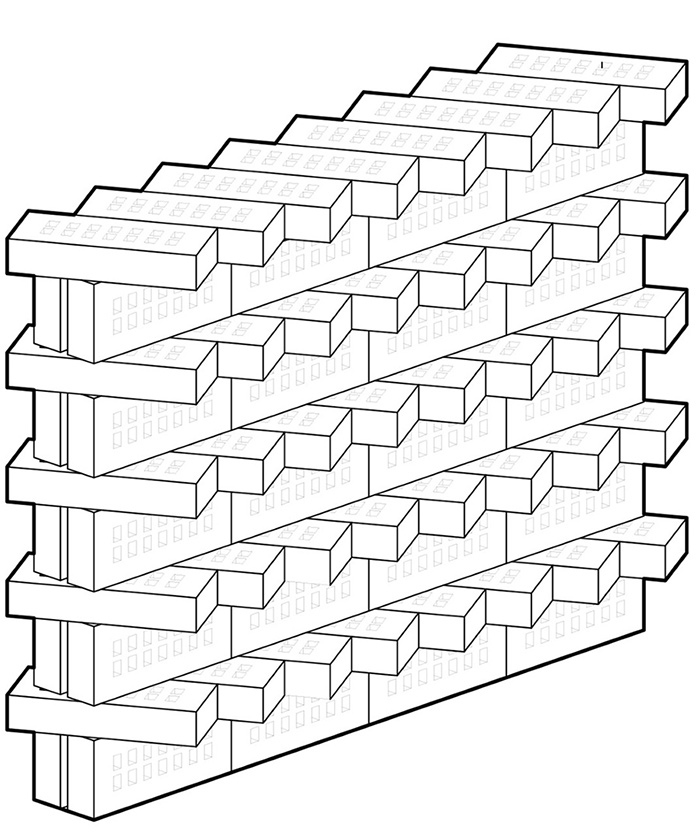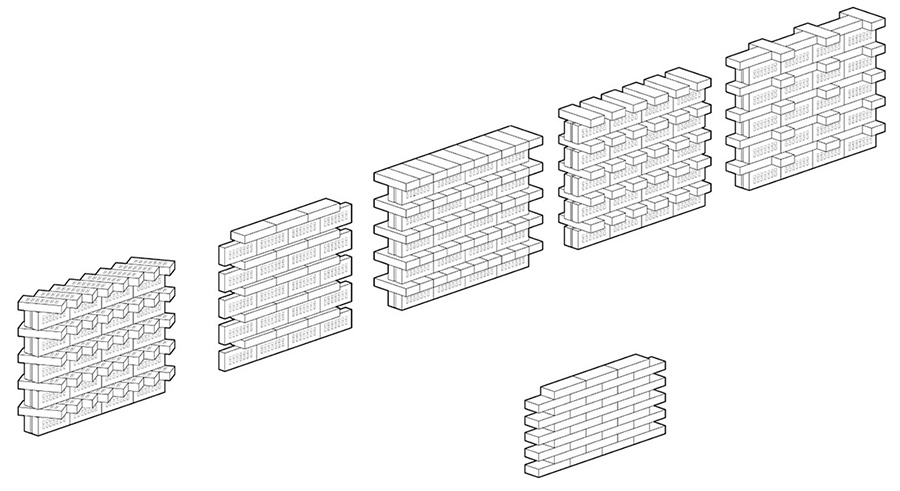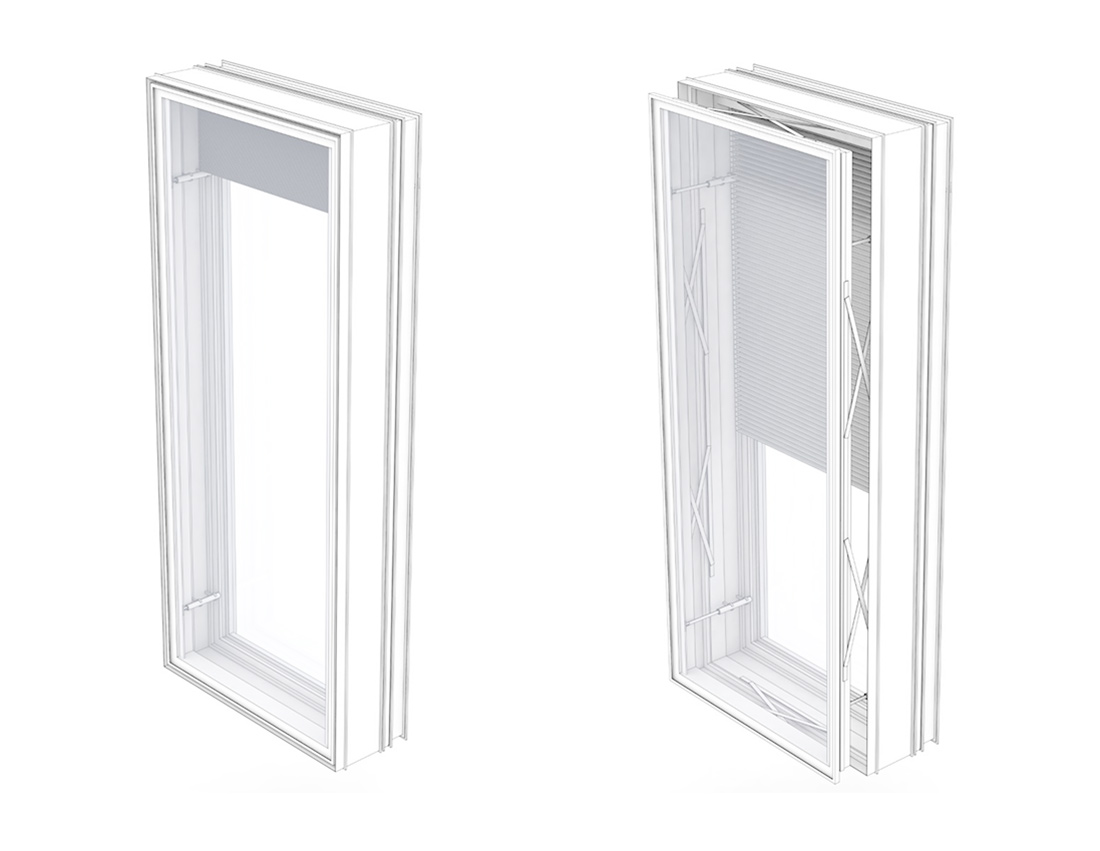 SELECTED RESEARCH PROJECTS: AUTOREACTIVE BUILDING ENVELOPES
The heart of the Ventflex technology developed by Dr. Philipp Lionel Molter is a paraffin-filled thermal cylinder. The wax-oil mixture inside the cylinders expands when the temperature rises above a certain value. The increase in volume generates a pressure that pushes the cylinders apart like telescopes. If the temperature drops, they contract again. Until now, thermal cylinders have only been used to open and close ventilation slots in greenhouses. In his research project, which has just been completed, Molter is able to show that the technology is also suitable for cooling double-glazed facades efficiently, cost-effectively, energy-efficiently and without the need for complex electronic control systems.
Thermal cylinders control the low-tech facades
The elements of the new low-tech facade do not differ visually from conventional facade elements. However, the outer pane of the double-glazed box window is not fixed but connected to the frame at all four corners via the thermal cylinders. If the temperature between the panes rises above 23 degrees Celsius, the cylinders push the outer glass-front 5 cm outwards. The slot between the frame and pane allows cooler outside air to enter and naturally ventilate the space between the panes occupied by the heated sun protection. If the temperature drops below 23 degrees, the gap closes again automatically. The reaction time is only a few minutes. In winter, the facade module remains closed on cold days to prevent the offices from cooling down.

Positive energy balance
Simulations at the Chair of Building Technology and Climate Responsive Design at the Technical University of Munich show that the new low-tech concept is very efficient: Compared with modern facades, up to 50% of the energy required for heating and cooling can be saved. For high-rise buildings from the 1970s and 1980s, which have not yet been renovated and therefore consume a lot of energy, the savings can be considerably greater.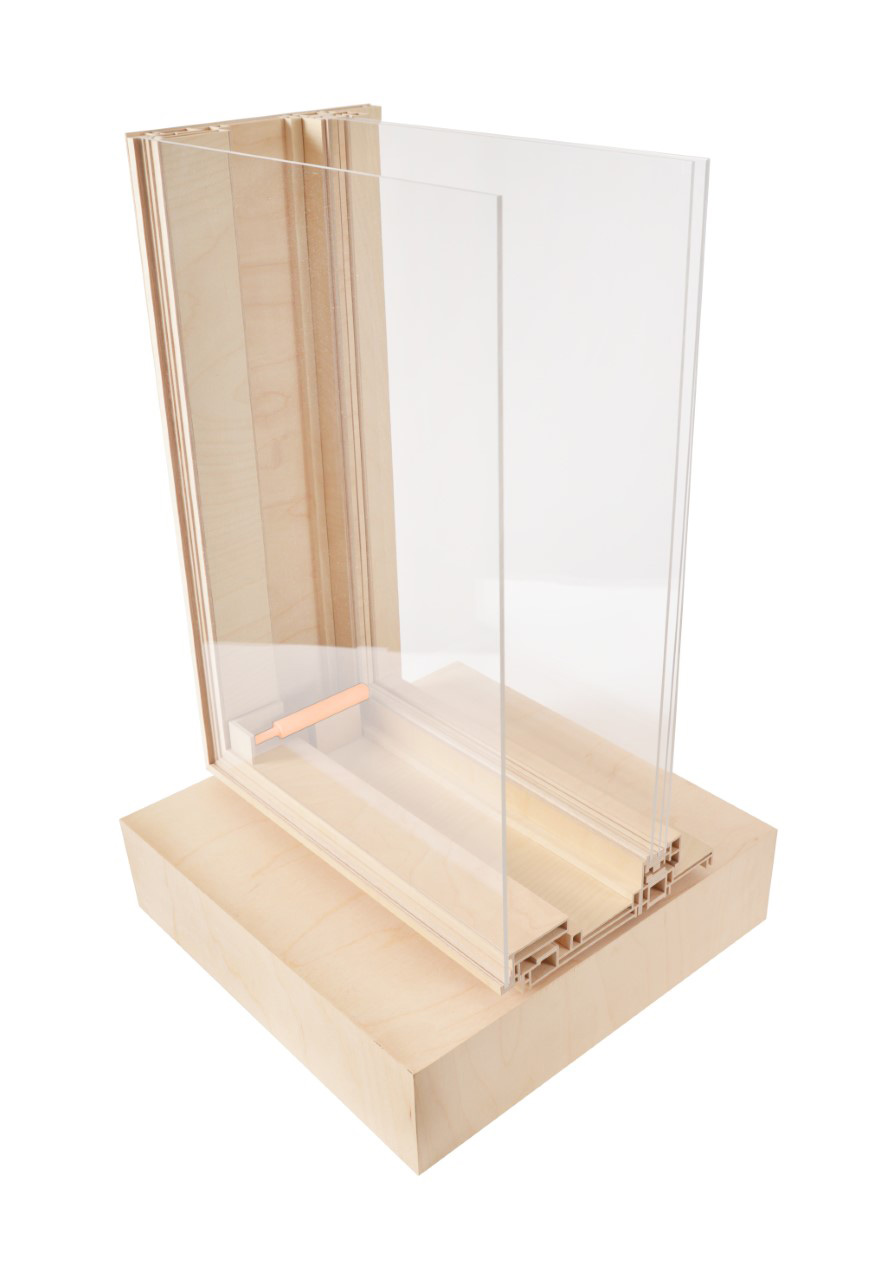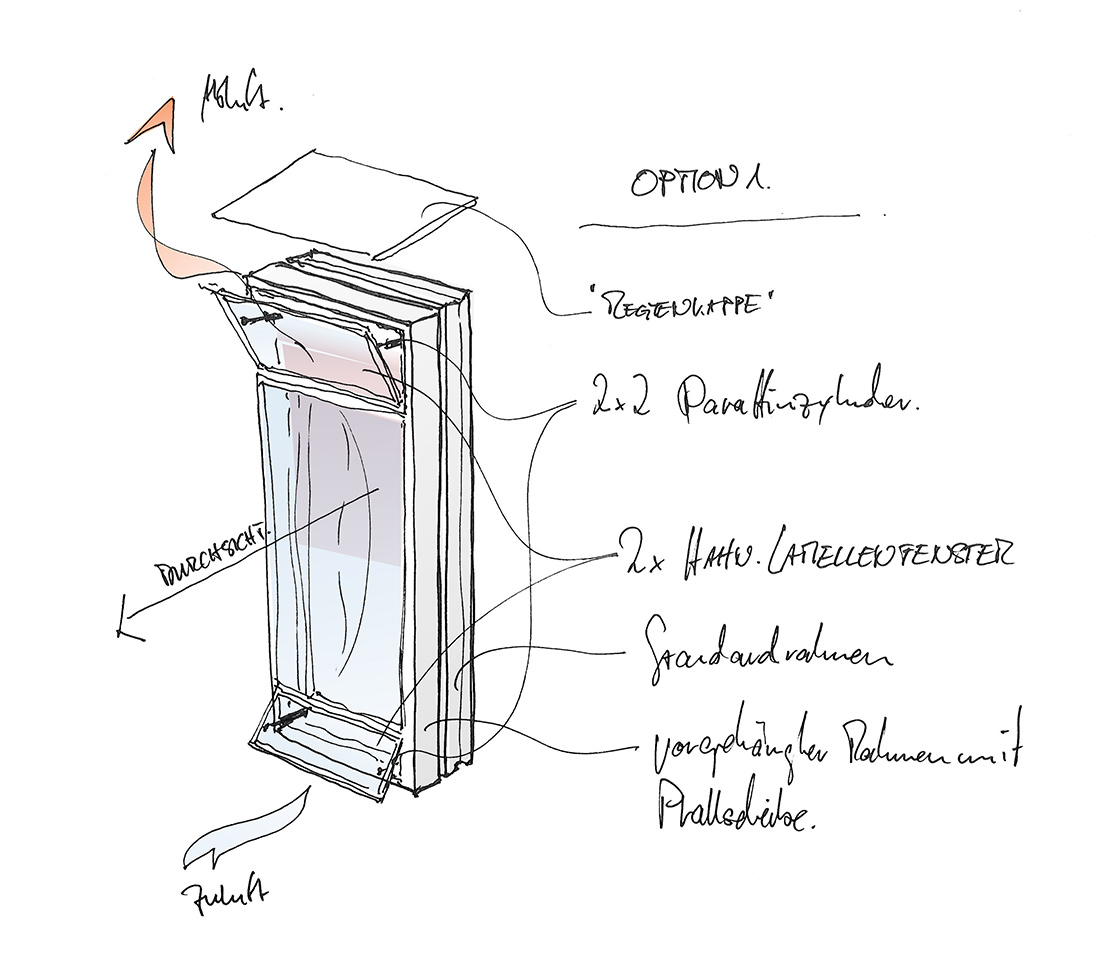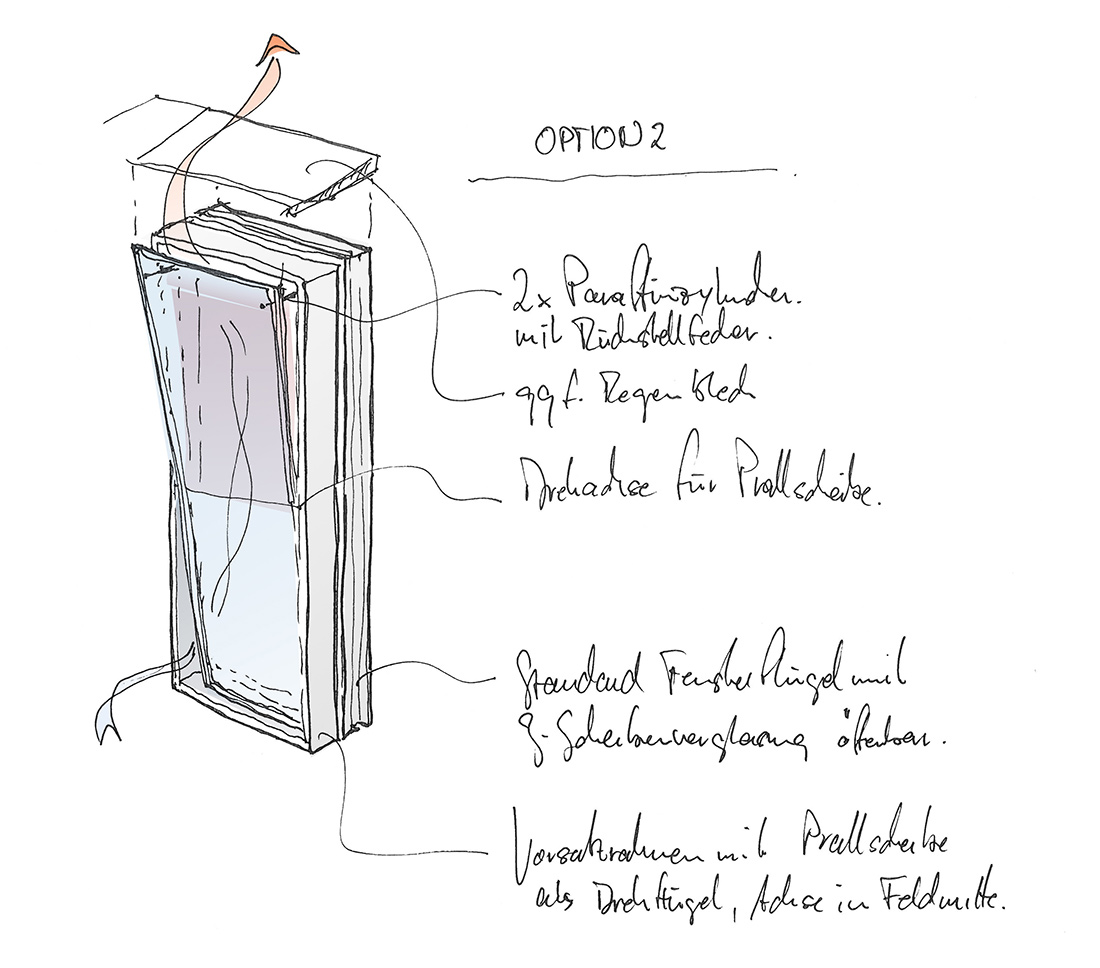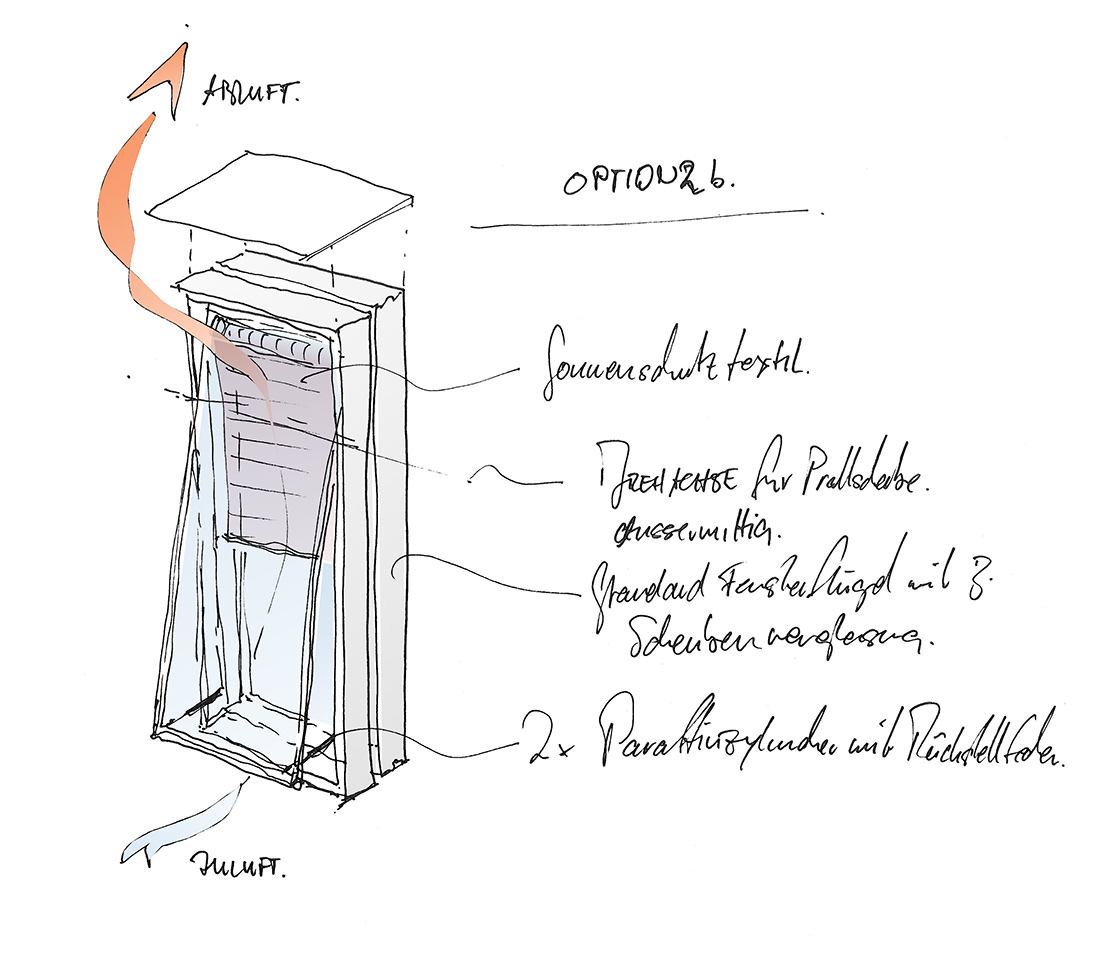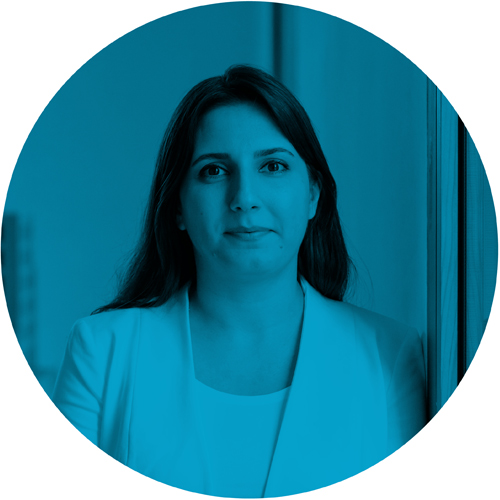 Yasemin Yalcin-Chauca
2226; Nemčija
Yasemin Yalcın-Chauca je bila rojena leta 1988 v Bregenzu v Avstriji. Po študiju arhitekture na Tehnični univerzi v Innsbrucku je v Evropi, Aziji in ZDA snovala butike za modno hišo Akris iz St. Gallena. Od maja 2016 je pri Baumschlager Eberle Architekten v ekipi Dietmarja Eberleja delala na konceptih, natečajih in publikacijah. 2018 je
končala magistrski študij na temo kolektivnih bivalnih prostorov na ETH Z
ü
rich in na UPM Madrid
, kamor se od leta 2020 vrača kot gostujoča predavateljica. Od januarja 2020 je direktorica podjetja 2226, ki je del skupine Baumschlager Eberle. Foto portret: Baumschlager Eberle Architekten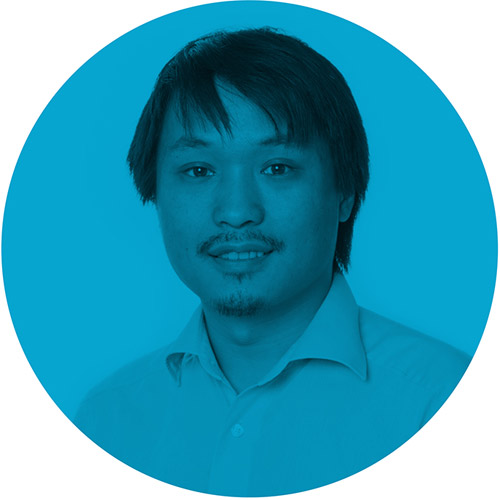 Jochen Lam
Transsolar KlimaEngineering; Nemčija
Transsolar je mednarodno podjetje, ki se ukvarja s pro- jektiranjem tehnoloških sistemov stavb – t. i. klima inženiringom. V podjetju stremijo k načrtovanju izjemnega bivalnega ugodja – tako v notranjih kot v zunanjih prostorih – s pozitivnim vplivom na okolje. Trajnostnosti v podjetju ne ločujejo od oblikovanja, temveč je zanje ne- pogrešljiva komponenta, ki izboljšuje izkušnjo grajenega okolja.
So gonilna sila pri razvoju idej in izpopolnjevalci dizajna. Inženirji podjetja niso le strokovnjaki na področju osnov- nih fizikalnih principov, temveč kreativni sooblikovalci v načrtovalskem procesu, ki omogočajo razvoj celovitih konceptov bivalnega ugodja in rabe energije. Od prvih zasnov projekta naprej tesno sodelujejo z naročnikom, arhitektom, drugimi projektanti in z najbolj ključnimi deležniki med vsemi – uporabniki. Na osnovi analiz vpliva sonca, vetra, toplote, svetlobe in drugih energij- skih tokov v stavbi in njeni okolici skozi leto oblikujejo koncepte delovanja stavbe, ki upoštevajo prepletajoče se dejavnike lokalnega podnebja, potrebe uporabnika, arhitekturno zasnovo in stavbno tehnologijo.
Jochen Lam je na Univerzi v Stuttgartu končal študij strojnega inženirstva in se nato leta 2013 pridružil nem- ški pisarni podjetja Transsolar. Eno leto je delal tudi v nji- hovi pisarni v New Yorku. Je del razvojne ekipe TRNSYS ter strokovnjak za toplotno modeliranje stavb in siste- mov. Poleg svetovanja projektantom izvaja delavnice za študente in predava po evropskih univerzah.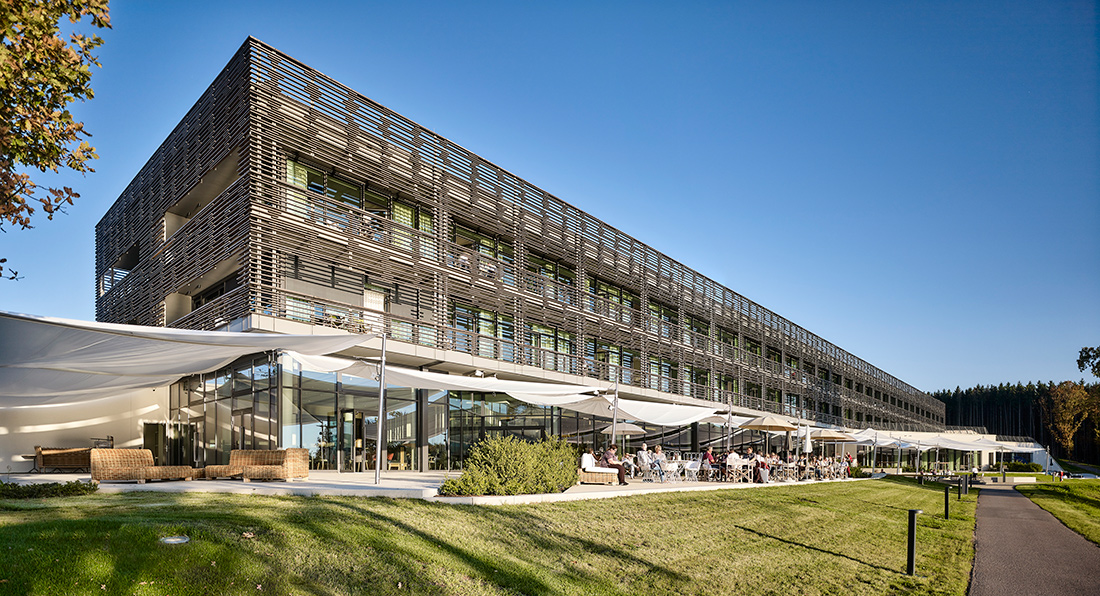 SEEZEITLODGE, HOTEL & SPA AT LAKE BOSTAL, NOHFELDEN, GERMANY
In June 2017, a new 4-star hotel opened on the shores of Bostalsee, a lake and eponymous recreational area in Saar land. The hotel houses 100 rooms and suites, a 2.000 m2 spa, a restaurant, a bar, and conference facilities. To run a luxury hotel, a beautiful view to the lake is not enough. The customer experience must also be exceptional. Transsolar's role was critical in creating high quality comfort and cost-effective operation. One target of the project is to demonstrate that such comfort can be achieved without increasing the energy demand. Through an iterative design process and the use of thermal, day light and CFD simulations, Transsolar worked with the architect and client to develop the energy and comfort concept. A challenge of the project was to maintain an unobstructed view of the lake while limiting the solar heat gains in summer. The hotel room balconies and the exterior suspended wooden lamella were optimized for sun protection, day light and views. Motorized awnings are installed on the ground floor to provide shade for the patio, lobby, restaurant and event rooms while allowing for unobstructed views and free passage. In the hotel rooms, thermally activated concrete ceilings provide the basic heating and cooling. During winter, the room temperature can be controlled via convectors. Guests can also decide how fresh air enters the room: they may either open the balcony door and windows or they can switch on the bathroom fan which draws outdoor air through façade trickle vents. A gas-powered combined heat-and-powerplant provides heat and electricity for the base load; the waste heat from the chiller is used to pre heat the domestic hot water and the pool water in the spa area.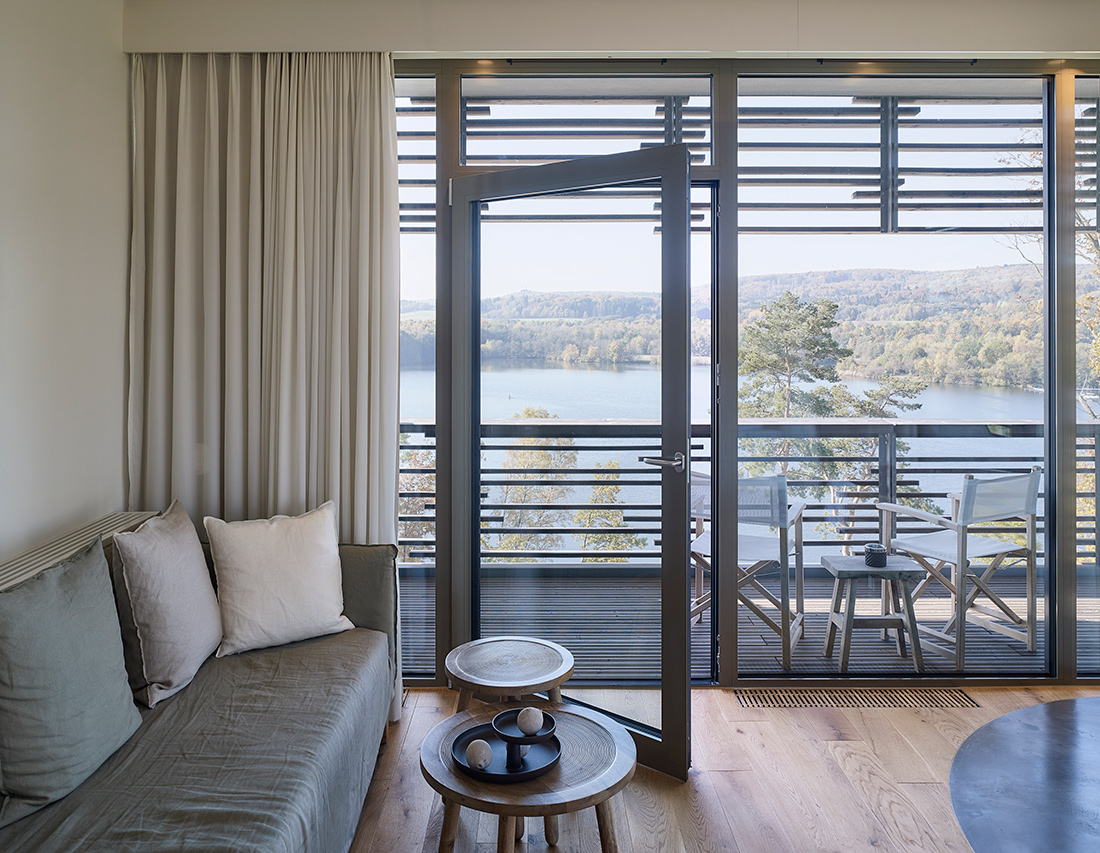 DATA:
Client: HotelKultur
GFA: 129,000 ft / 12,000 m
Architect: GRAFT Gesellschaft von Architekten
Mechanical: ZWP Ingenieur-AG
Structural: Knippers Helbig
Interior Design: Nicolay Architektur & Design
Photos: Michael Moser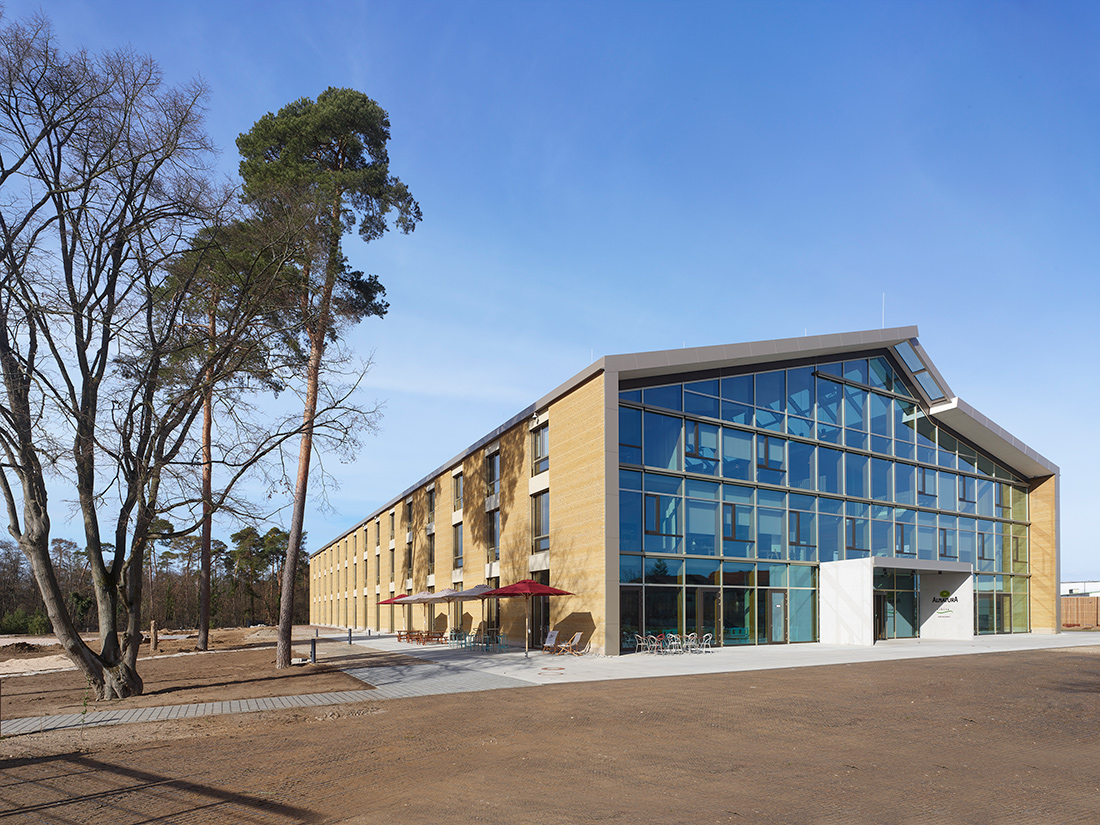 ALNATURA CAMPUS, DARMSTADT, GERMANY
The new Alnatura Headquarters in Darmstadt opened 2019. The "Bürowelt" ("officeworld") consists of offices, a canteen and a conference area. Besides providing a good indoor climate, special emphasis is placed on "simplicity": more quality by reduction. This was achieved primarily through the design. The planning team focused on reducing the expenses for technical equipment by introducing passive approaches while ensuring a high user comfort. They evaluated the embodied energy of the new building and adopted resource-friendly solutions for the components. As a result, the team developed a high-performance building with optimized indoor comfort while using natural materials such as the rammed earth façade or the wooden roof construction. The vertical façades are shaded externally. The east and west facades are glazed floor-to-ceiling and combined with bright surfaces, an atrium and north-facing skylights provide optimal day light supply. The artificial lighting is controlled by occupancy and ambient brightness. The building is ventilated naturally, preconditioning fresh air via earth ducts and then distributing it to the offices via displacement ventilation. In addition, the occupants can individually open windows for fresh outside air. Operable openings in the atrium roof drive natural cross-ventilation and exhaust used air. The ventilation system is equipped with CO2 sensors and can be supported mechanically if needed. To reduce heating and cooling demand solar gains are utilized and heat loss is reduced. In summer the thermal mass is cooled via nighttime air flushing and subsequently
acts as cooling source throughout the day. A radiant system, which is integrated in the rammed earth walls facing the room, can be activated as support if necessary. A geothermal system with bore holes provides heating and cooling.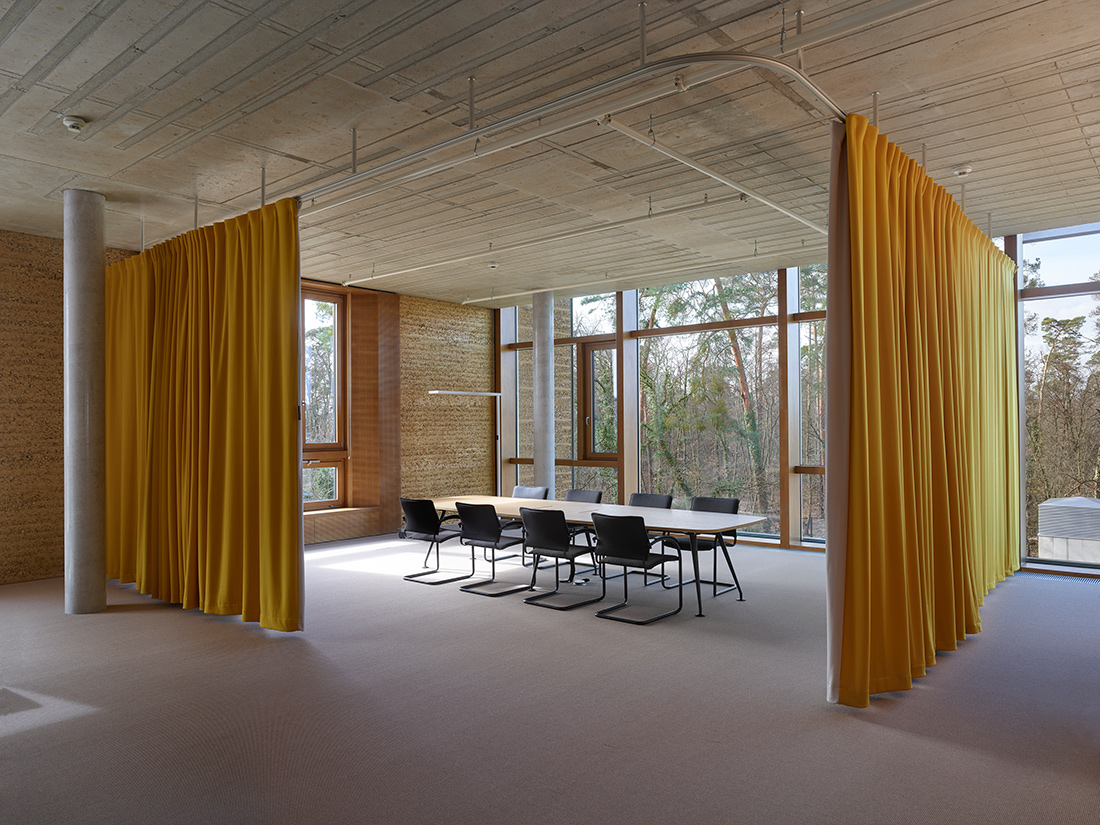 DATA:
Client: Alnatura Campus GmbH
Completion: 2019
GFA: 10,000 m²
Architects:  haas cook zemmrich STUDIO 2050
Structural: Knippers & Helbig
HVAC: Henne & Walter
Building physics: KNP
Landscape architect: Atelier Dreiseitl
Rammed Earth Lehm Ton Erde
Photos: Roland Halbe