Fotografija: Tamas Bujnovszky
Boštjan Vuga, kurator nagrade:
¨Andrija Rusan je glavni snovalec projekta 'oris'. 115 številk ali 21 let časopisa za arhitketuro in kulturo življenja, 'oris', 18 letnih mednarodnih simpozijev Dnevi Orisa v Zagrebu z nekaj tisoč udeležencev in arhitekti predavatelji, ki so v vrhu arhitketurne produkcije danes, potem Dnevi Orisa med drugim v Ljubljani, Beogradu in Dubrovniku in Oris – hiša arhitekture v Zagrebu z razstavami, predavanji in enostovano druženjem. Rusjanova vizija, da Oris penetrira v arhitketuro in v naš zeitgeist, da s časopisom, predavanji, razstavami, srečevanjem in druženjem arhitektov vplivaš na  razvoj arhitkture kot discipline, na položaj arhitektov v družbi, je vizija arhitketa, ki ve, da je arhitekturni učinek rezultat produkcije in komunikacije ter prave simbioze med njima. Kot arhitekt v praksi Andrija Rusjan ve, kaj pomeni projektirati in graditi in ve kako projekt skomunicirati, da lahko postane katalizator spremembe širšega območja. Ali je vizija Orisa, da vzpostavi Zagreb, Hrvaško in te dal Evrope kot novi arhitketruni epicenter, ki ima potem vpliv na svetovno arhitektrno produkcijo? Ker je Andriji Rusanu in vsem pri Orisu uspelo, da je postal fenomen v tem prostoru, ker me zanima, kako se bo ta fenomen širil in v katere sfere arhitketure in družbe  bo posegel v bodoče, kje bo še bolj radikalen, ga predlagam za arhitekturnega vizionarja 2019.¨
Andrija Rusan
was born in Zagreb, Croatia in 1957.  He graduated from the Faculty of Architecture in Zagreb. He has been working as the head of his own atelier Rusanov ured since 1986.
During the 80s and the 90s he was the member of the editorial boards of magazines published by the Croatian Association of Architects: Čovjek i prostor (Man and space) and Arhitektura (Architecture).
In 1998 he founded and started publishing magazine Oris. Soon after, he founded the NGO Oris House of Architecture. For critical and theoretical, as well as for journalistic work in the field of architecture, Oris was twice the recipient of the Neven Šegvić Award of the Croatian Association of Architects. Rusan participated at IBA (Internationale Bauaustellung) in Berlin in 1987 as the author of the exhibition Zagreb, ah Zagreb. He is the author of many exhibitions, one of the most important being Continuity of Modernity – Fragments of Croatian Architecture from Modernism to 2010. Together with Vedran Mimica and Maroje Mrduljaš, he is the author of the book Contemporary Croatian Architecture – Testing Reality. He was the recipient of the Drago Galić Award of the Croatian Association of Architects for the best residential architecture in 1997, of the Dedalo Minose Prize for the Lumenart office building in Pula in 2007. In 2006 he was appointed the Croatian commissioner for the 10th International Architecture Exhibition, Venice Biennale of Architecture. He later presented his work at the Biennale on several occasions. Parallel to his activities as publisher and creator of exhibitions, he has also designed and realized a number of interiors, family houses and villas, commercial and public buildings. His work appears in the Phaidon Atlas of 21st World Architecture. His architectural works are published in books and magazines in Croatia and abroad. Also, he has held lectures about his work and the activities of the Oris House of Architecture.
Pogovor z Andrijo:
To begin with, who are you? How would you describe yourself and how do your friends see you?
I am an architect, father of wonderful daughters I am very proud of, husband of a very special and strong woman and exceptional architect Jasminka. With a great team of employees I am trying to run Oris magazine and Oris House of Architecture. There is no need to say anything else, there is not much more to say, actually. Regarding the way my fiends see me, it is better to check with them.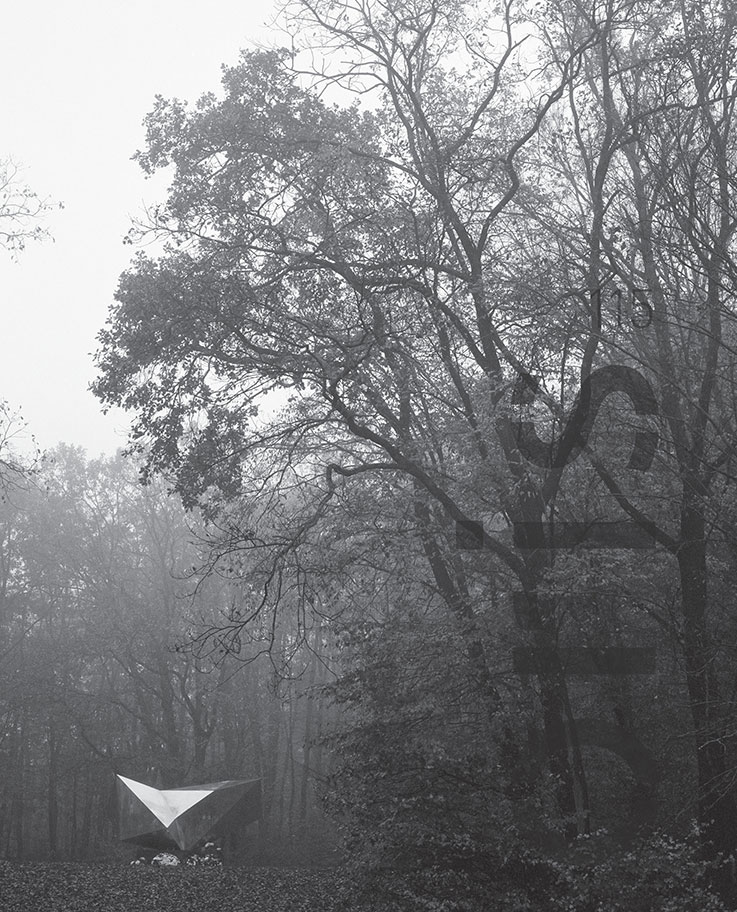 What were the first signs of your talent? Probably already when you were a child? What did you do back then, being creative? When did you become interested in architecture?
I have always been drawing something. I have never built anything though, not even castles in the sand. I did make birdhouses on trees, but it was more like a child play, like other children did. I do not think that it was any sign of talent. No one perceived it as such. There were no architects, builders or artists in my family. Now when you ask me this, I am re-examining my past, childhood, back to my first college years… there were some things that, from my current point of view, might be perceived as glimpses of my future profession, but it all could have gone in another direction. When I had to decide which faculty to enrol and think about what I was most interested in, I thought of becoming a psychoanalyst (but it involved studying medicine), a lawyer (but it implied learning a lot of boring subjects), but also an architect, builder. In Classical Gymnasium I attended, I liked Art History. My teacher was a charming and beautiful Ms Bernardi, wife of an exceptional Croatian architect and designer Bernardo Bernardi, although I did not realise how important this was at the time. I graduated from high school on the topic of Brasilia and applied for the entrance exam at the Faculty of Architecture. But it was not until the third year of Faculty, after I spent two months in Urbino at the International Laboratory of Urban design, when I developed passion for architecture and realised that I would be happy practising architecture. Our teachers in Urbino were Renzo Piano, Alison Smitshon, Sverre Fehn, Giancarlo de Carlo, Santiago Calatrava, Aldo van Eyck… fantastic people. There were students from 12 different countries, it all took place in Toscana…
Have you ever thought when joining the school of architecture, that you will play such an important role in society over time (architect, editor, critic, theorist …)?
No. I wanted to do well; be successful, build houses, create comfortable, interesting spaces and to enjoy doing it.
Since your field of work is so wide, we are curious which part makes you passionate the most?
I have already been asked this question and I have had to seriously think about it. Basically, I have been doing two completely different jobs. It became glaringly apparent when we opened Oris House of Architecture 4 years ago. Obligations increased significantly, I have had to become more engaged, concentrated. Fortunately, I cooperate with great people and they took over a great deal of obligations and activities. As a practising architect and, so to say, the first person of Oris, I have experienced so many interesting, intriguing moments, situations and projects that I really cannot say what is more important to me, what makes me more happy or provides me with bigger inspiration. There are great moments, pleasures… There are also problems, but all of us together manage to create new projects, develop ideas and enjoy in them.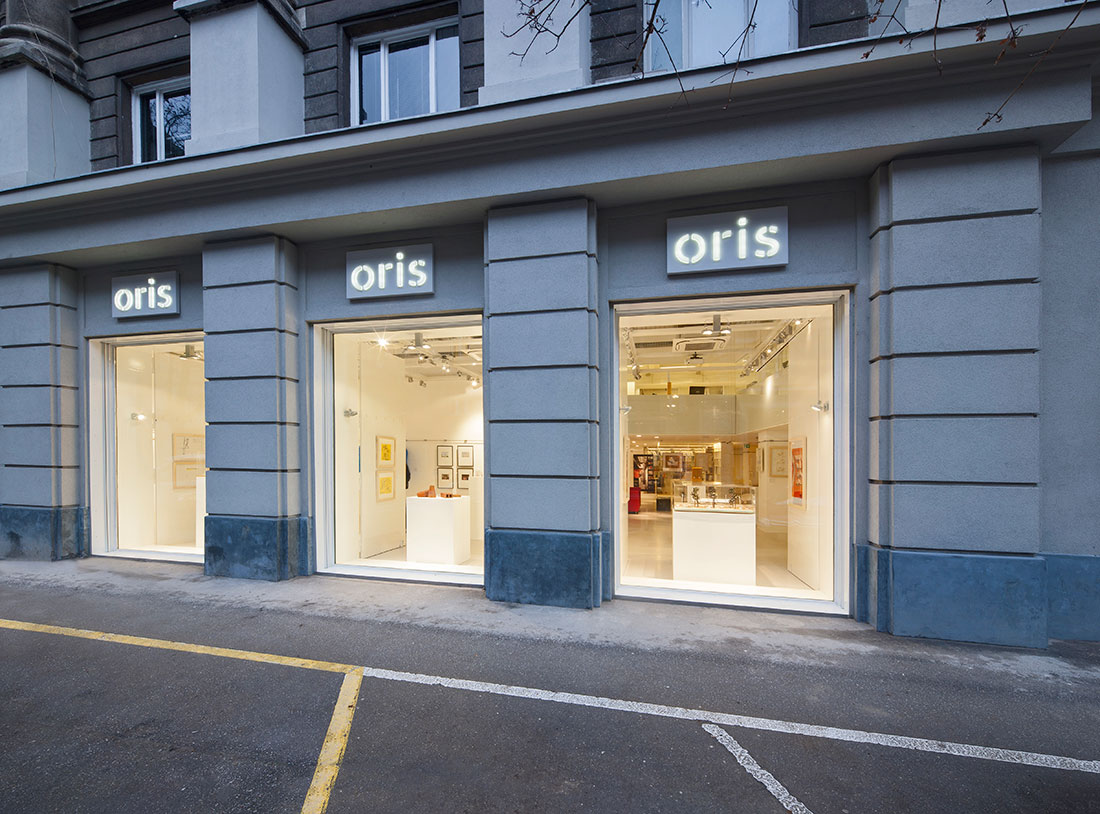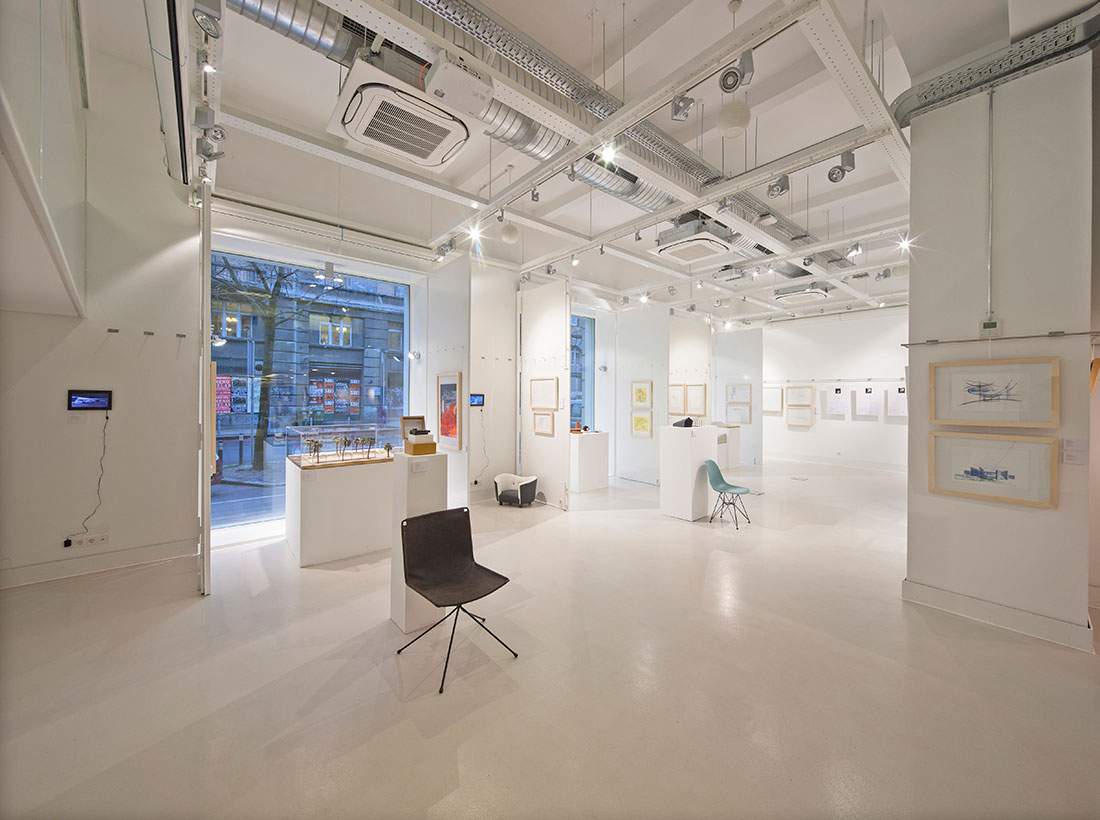 Oris hiša arhitekture, Zagreb, 2015; Andrija Rusan and coworkers Nikolina Mikuličić, Jasminka Rusan
Which architecture magazine(s) do you like to read the most?
For years now, Oris has regularly exchanged magazines with 20 magazines from all over the world.
AV from Madrid is always interesting, El Croquis is quite thorough when they focus on individual authors, we also receive Detail, but I rarely have time to read it more carefully, Baumeister is also very interesting… there are also Finnish, Czech, English magazines
How do you react when you don't feel the connection with the client? Do you have any advice on how to convince a client with your ideas?
It is unpleasant, I feel disappointed, weak. It is not a nice feeling. But it is also a part of our job. For a long time I have been saying that the Faculty of Architecture should offer classes on communication with clients and business skills. If I do not succeed in developing a good rapport with my clients, I think about how to get through to them, their way of thinking. I really try. We work for these people, they are paying for our services. We have to try to understand their wishes; do projects we believe in as experts, architects, but also take their wishes into account. There is a line we cannot cross and I do not realise all the projects. I do not like it when this happens, but it is also a part of our work.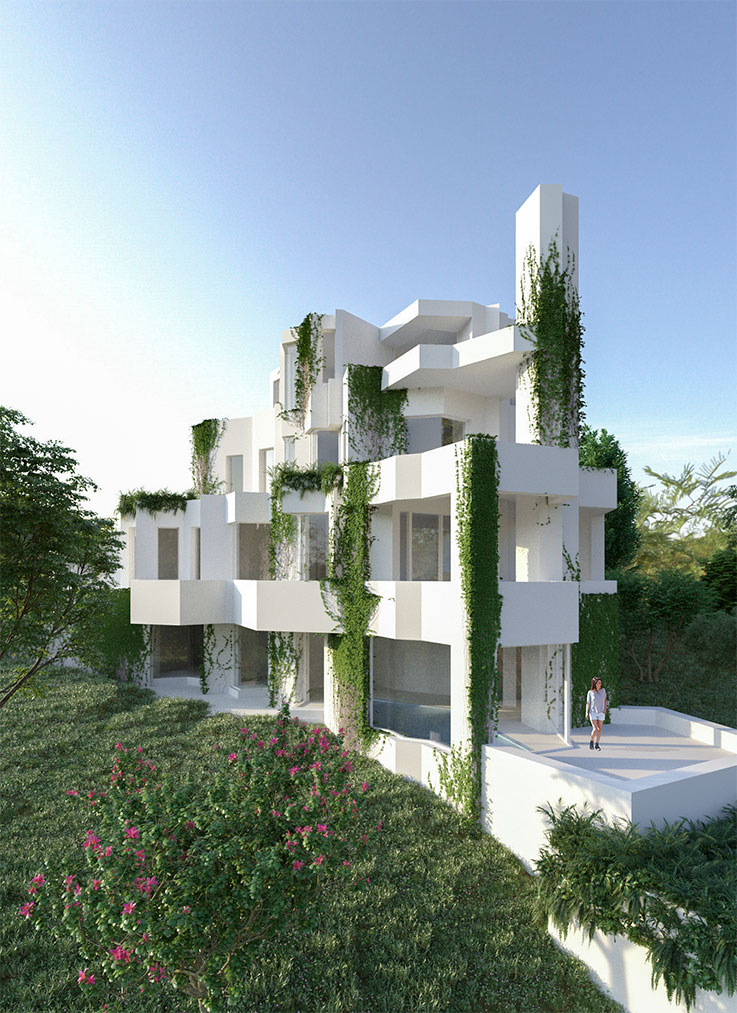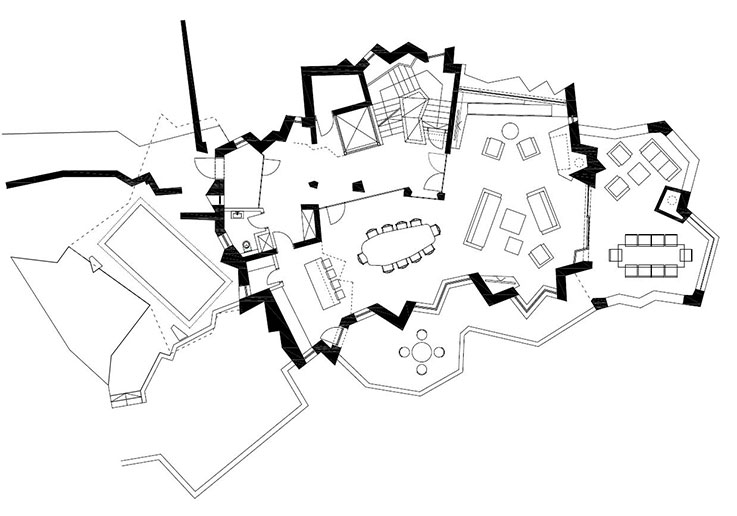 družinska hiša Gvozd, Zagreb, 2018; Andrija Rusan
Would you rather improvise, or rather prepare yourself well?
I like to prepare thoroughly, but most often I have to improvise, having set a basic direction and after a short period of preparation.
Are you a cat or a dog person? Do you have any pets?
I am allergic to cats although I like them. I also like dogs, but having dogs is more demanding than having kids so we decided to have kids. I am joking, of course, trying to be funny…
Do you ever do anything out of pure curiosity? What was the craziest thing you did?
Yes, but I am not going to tell you. I did all sorts of crazy things in my life, but to share them, we would have to spend (at least) a couple of hours together, with good food, nice wine, a good cigar would also be great….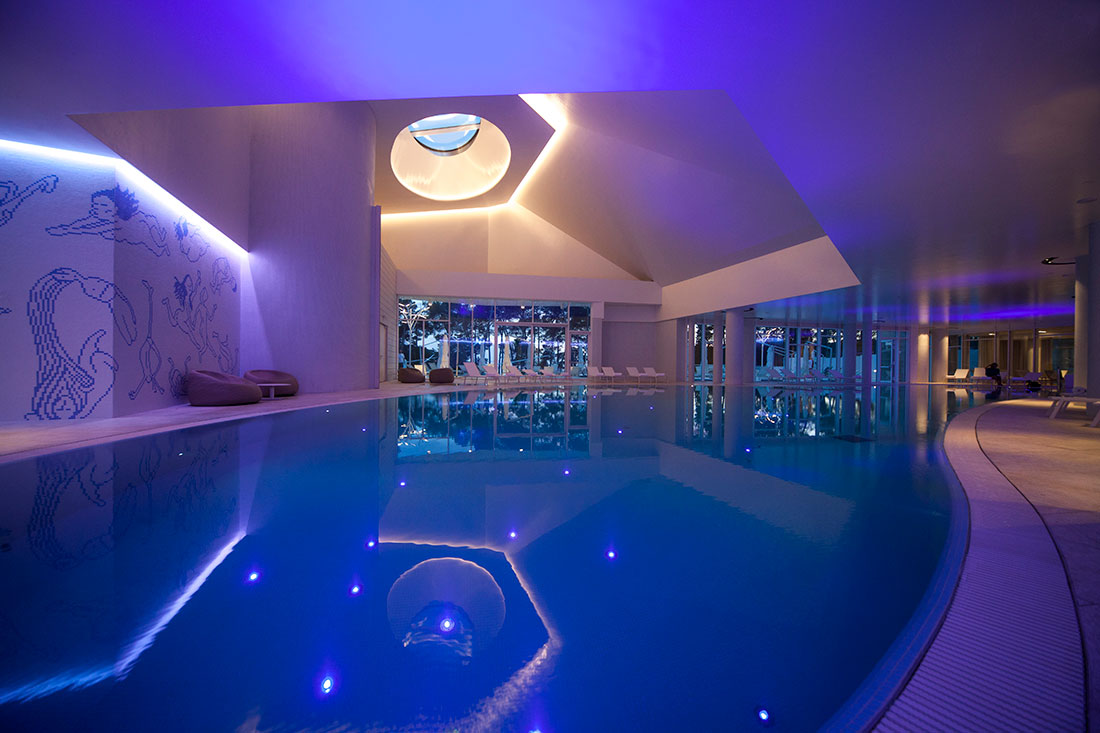 Rekonstrukcija hotela Bellevue, Mali Lošinj, 2014; Andrija Rusan, coworkers Jasminka Rusan, Nikolina Mikuličić, Tihomir Knezić
What is your favourite part of the day? Do you drink coffee? What kind?
I get up quite early in the morning. I spend some time alone and have my first espresso as soon as I get up. Then, when it is peaceful, I do all those things I do not have time or concentration for later in the day. On average, I work 11 or 12 hours a day. The beauty of my day depends on the events I participate in.
The most beautiful part of the day, though, is Saturday morning I spend with my Jasminka in our second home in Zagorje, at our hill. We have coffee there as well; then it is the Nescafe Jasminka makes.
How do you relax, for example at the end of the week? What is your perfect getaway?
The weekends we spend at Dašekovo, our second home in Hrvatsko zagorje; a house in the Nature Park, where there is no one in sight, where we mow the lawn, tend to our garden, cut down trees in the forest, watch movies in front of the fireplace, bathe in our hot tub… have lunch with our friends (not too often), sit in our terrace having a Nescafe.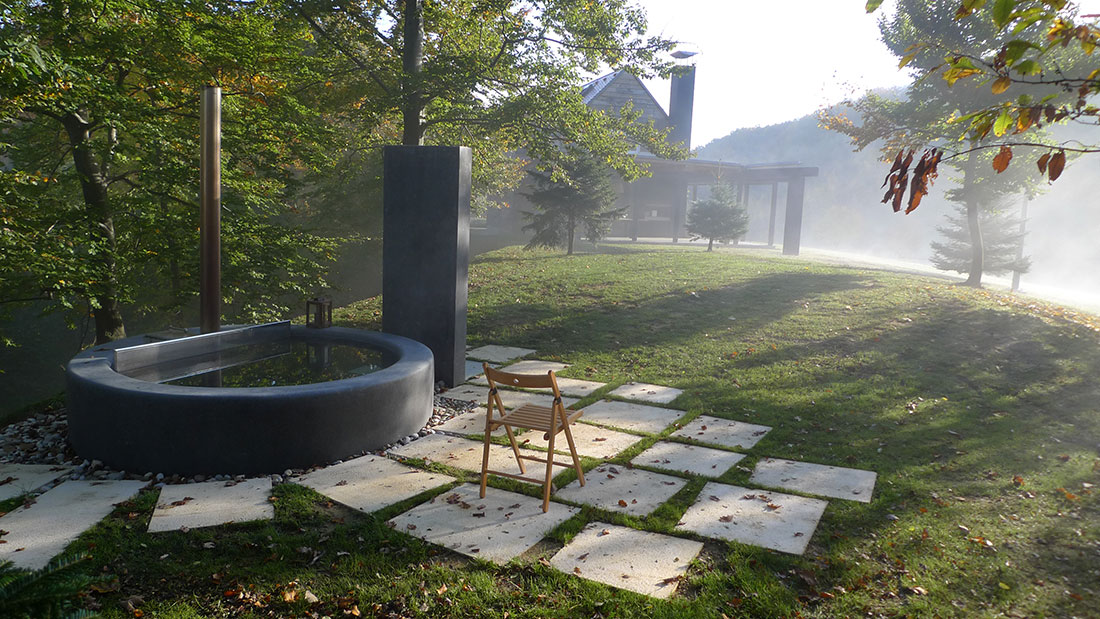 Družinska hiša Dašekovo, Gornja Podgora, 2008; Andrija Rusan, Jasminka Rusan
What movies do you like?
Different kinds. From romantic, serious films, comedies… Apocalypse Now, Silence of the Lambs, Tko pjeva zlo ne misli, Big Blue, Besson's films, I also like to see a good old (or new) western. There are so many good films to choose from.
What do you think about comfort at home? Do you prefer more space, or is functionality more important?
The size of the space is not important. Functionality is an absolute must. Atmosphere is created by defining spaces, selection of materials, communication with the environment, light… I often say that I would rather live in a well organised apartment (space) situated in an ugly building than in a bad apartment located in a masterpiece of architecture.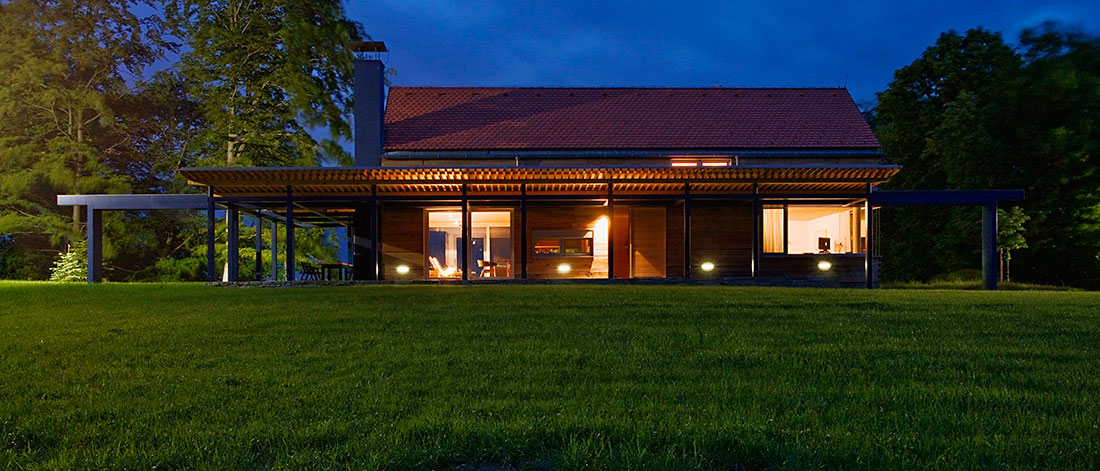 Družinska hiša Dašekovo, Gornja Podgora, 2008; Andrija Rusan, Jasminka Rusan
Are you resentful? Do you hold grudges against anyone?
I can be impulsive and resentful. With time, I cool off, even forget. I am no sunshine; there are probably a lot of things people can resent me as well.
How do you handle the people you don't like?
If I have to communicate with them, it is probably work-related or has to do with social commitments. If there is respect and you are aware of the goal of the communication, it is just done.
How difficult is it for you to be honest if it means your words can be hurtful or unpopular?
We need to try hard to be honest, even in the situation when other people do not like it. Very often, you have to find a way to tell the truth without hurting someone. It is the art of communication.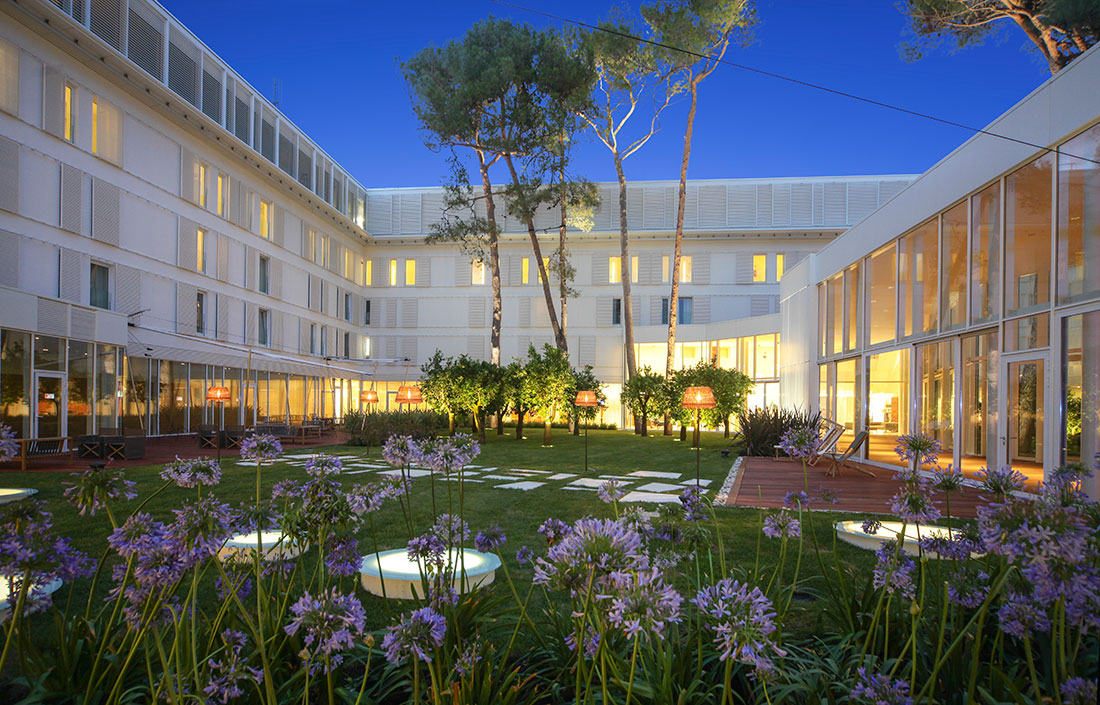 Rekonstrukcija hotela Bellevue, Mali Lošinj, 2014; Andrija Rusan, coworkers Jasminka Rusan, Nikolina Mikuličić, Tihomir Knezić
Everyone can be immature in some aspects of their life. In what aspects do you find yourself immature? 
I hope that I leave the impression of maturity when the situation requires it. Jokes and pranks are always welcome. It must be nice to manage to keep your inner child alive.
What is the dumbest thing you have ever believed?
That some people would be honest, honour an agreement or keep their promise.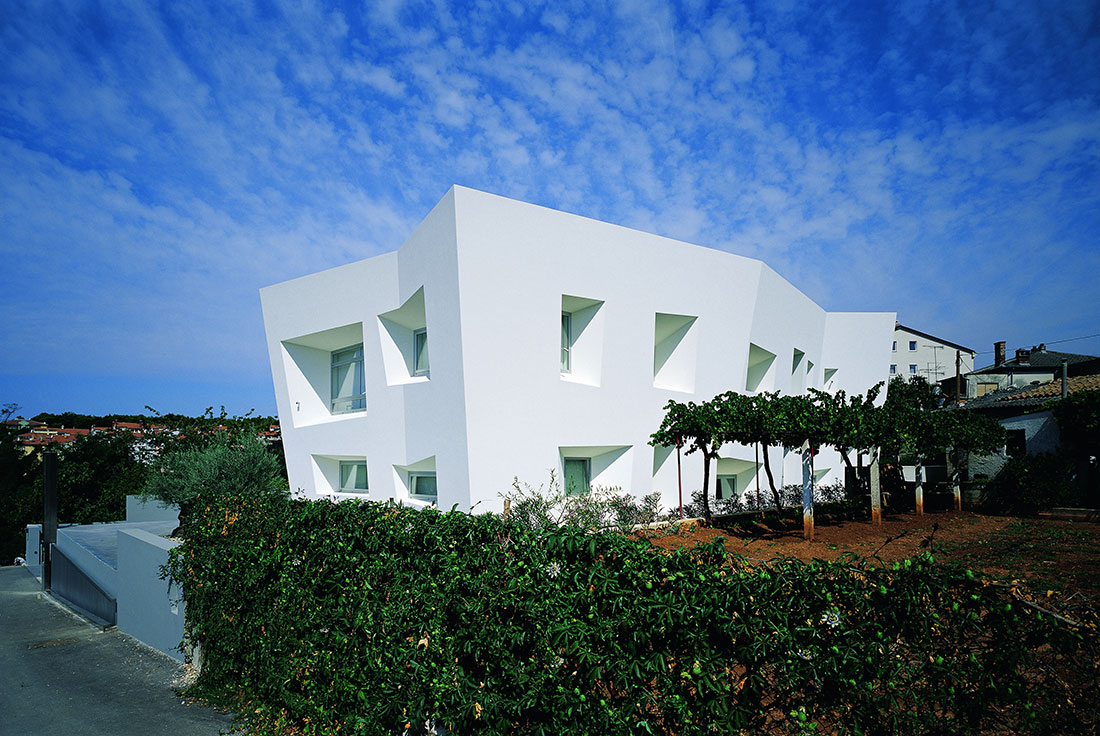 Poslovna stavba Lumenart, Pula, 2006; Andrija Rusan, coworkers Marijan Mirković, Ljerka Kabelka
Some things set us off. They are usually not even important. What are those things for you?
Stupidity, other people's stupidity.  
What is the thing you think you should know how to do, but you don't?
To have a better control of my temper sometimes.
What is your biggest fear?
That something bad would happen to my family.
What do you think we forget to appreciate as much as we should in our lives?
Patience and love.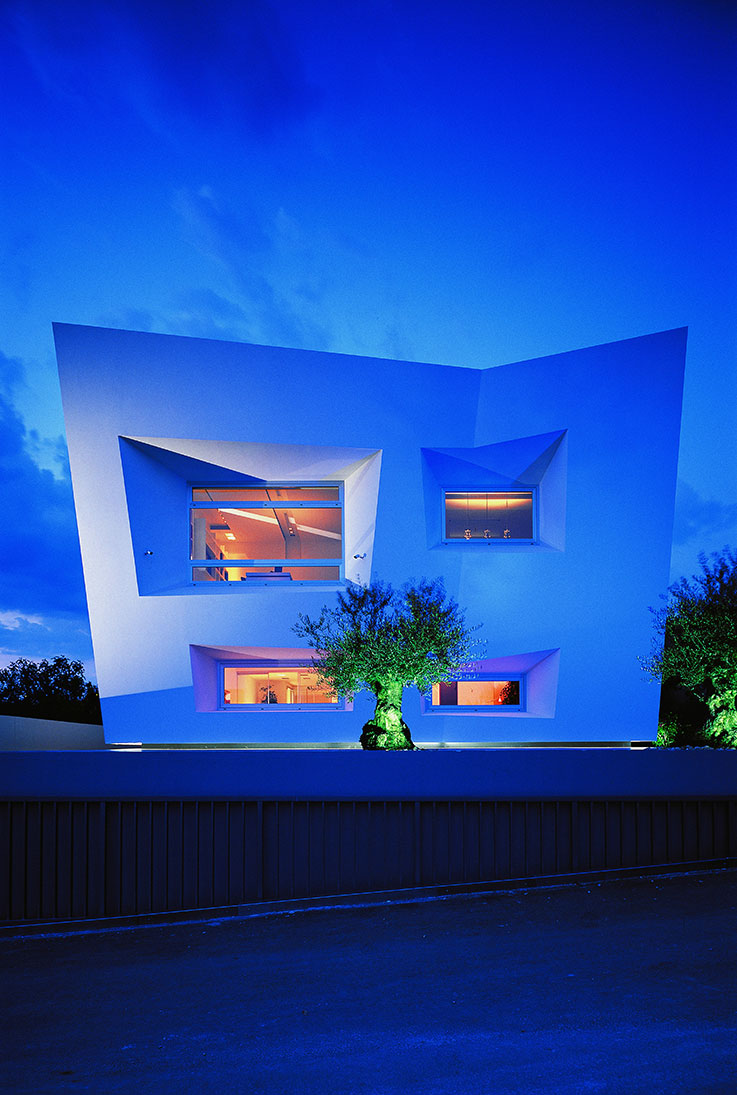 Poslovna stavba Lumenart, Pula, 2006; Andrija Rusan, coworkers Marijan Mirković, Ljerka Kabelka
BIG SEE ARCHITECTURAL VISIONARIES 2019
The Award is granted by Zavod Big to those individuals who enrich and inspire the world of creativity, tend to move forward by pushing the architecture and design boundaries, and help to encourage the creative environment in the region of South-Eastern Europe. Their activities represent a significant contribution to the role of architecture and design in the region, and due to their efforts the South-East European architecture and design has been put on the map of the greatest architecture and design achievements. We are all overwhelmed with emotion and deeply touched by these visionary leaders' creative work which ignites our passions and steers us in the right direction to bring out the best in us.
FILE
pogovarjala sem se: Danaja Jovandič